Normally, the spokespeople of public officials are only of interest to members of the press and the media. Their biographies and their personalities stay, for the most part, in the background. After all, their job is first and foremost to publicize someone else.
But this view has changed since former German President Christian Wulff stepped down amidst scandal earlier this year, an act which shook up not just the presidential office. One of the first victims of the Wulff affair was his longtime spokesman and image consultant Olaf Glaeseker, who had a great influence over the former president.
Even if the new president, Joachim Gauck, differs from Wulff by age, experience and nature, it seems he too has conceded the importance of an image consultant. Starting in September, a woman who is not known for just handing out press releases will be standing by his side.
Half-Iranian media expert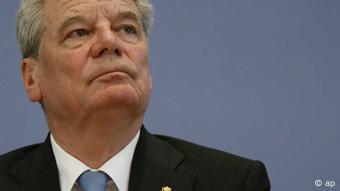 Gauck became German president earlier this year
Ferdos Forudastan is a woman with an international background. Her mother is a German ophthalmologist, and her Iranian-born father is an orthopedist. She comes from a wealthy family, a fact reflected in her educational background. She attended elementary school in Switzerland and high school in Iran, graduating back in Germany. She then studied political science and law.
Forudastan is a journalist and author, and has made a name for herself with her opinionated commentaries. During the time of Germany's reunification, she worked as a correspondent in the former capital, Bonn, for left-wing newspapers.
It was here that she became known for articles that dealt with topics linked to immigration, a popular topic in the German media in the 1990s. She wrote several books on the topic and committed herself to the training of journalists from immigrant families.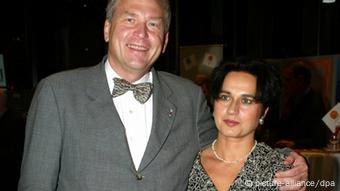 Forudastan is married to Michael Vesper, another politician
Public and private
President Gauck knows that the topic of immigration in Germany is not only controversial, but in these times of increasing shortages of skilled workers, it can be of economic importance as well. With a background as a former East German pastor and civil rights campaigner, he has little experience with the topic himself.
Gauck's predecessor attracted controversy for his statement that "Islam belongs to Germany," but when Gauck distanced himself from this remark, he was criticized in some parts of the media. With Forudastan, a Muslim, at his side, this is not likely to happen again.
The interaction between politics and the media is not only restricted to Forudastan's public life. She is married to Michael Vesper, the former deputy premier of North Rhine-Westphalia and a member of the Green Party, now general director of the German Olympic Sports Confederation. The couple has three school-age children together, and until now made their home in Cologne, on the opposite side of the country from Berlin.
Author: Kay-Alexander Scholz / cmk
Editor: Simon Bone