DW: German President Joachim Gauck visited the Netherlands on May 5, the day the Dutch celebrate their liberation from Nazi Germany. Is that perhaps poor timing?
Friso Wielenga: No, it is in fact fortuitous timing. The invitation was extended to former President Wulff. If he hadn't stepped down, Wulff would be the one giving this talk. But it is truly a special date, since it's the first time that a German will hold such an important speech on this day in the Netherlands. It underscores the normalization of relations. To be sure, there are a few odd protests against Gauck's visit, but one shouldn't really take them seriously - especially considering Gauck's rhetoric, which constantly emphasizes freedom. I'd say, on liberation day - when freedom rules - there's no better speaker than Gauck.
Critics organizing the protests against Gauck's visit are focusing on Germany's failure to extradite war criminal Klaas Carel Faber. What do you think of that?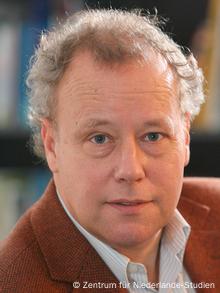 Wielenga thinks the speech's location is mere coincidence
It's a very, very small minority that has seized on this Faber issue to protest against Gauck. Sure, the Faber issue is a protracted affair. In the early 1950s, seven Dutch escaped from prison in Breda and fled to Germany. These seven [of whom Faber is the only left alive - ed.] were deemed to have been collaborators, and since they were in the service of the Germans, they lost their Dutch citizenship. German courts then determined that since the seven had received German citizenship through their military service, it could not be ruled out that they still had it. And the German constitution prohibits Germans from being extradited. That's the legal background, and it has nothing to do with President Gauck. It's now being determined whether or not Faber should appear before a court in Germany, which is appropriate.
Gauck will be coming right to Breda, where Faber escaped from. Why there?
These things really have nothing to do with each other. The liberation celebration is held in a different province of Holland every year, and this year it happens to be in the North Brabant province. Breda is an important city in this province. That's it, nothing less and nothing more.
What will the Dutch be expecting on such a day and in such a place from President Gauck?
On this date, it's really not about memorializing the dead. The Dutch do this during two minutes of silence on the evening before, from 8:00 p.m. to 8:02 p.m. on May 4. May 5 is then a day for looking forward, and celebrating freedom. And of course, on that day it's all about the motto "sharing freedom." How can we defend our freedom? In this, the German president can play an important role. In the end, it's a common Western freedom, not just Dutch, or German, or French. It's a Western freedom. And this freedom, we must share together, defend together, build up together and all be clear together, that freedom is not to be taken for granted. That's why I believe there could be no better speaker than Gauck, in order to show that we have common concerns and goals, common ideals between present-day Germany and the Netherlands of today. I'm sure he'll really speak from the heart and reach many Dutch people.
Dr. Friso Wielenga is director of Dutch studies at the University of Münster. His research focus is history of the Netherlands and Dutch-German relations, along with comparative Dutch and German contemporary history.
Author: Daphne Grathwohl / sad
Editor: Simon Bone