When students were invited to spend the day with electronics company Rohde and Schwarz they weren't expecting it to be fun. But, rather than a boring careers talk, they were invited to play a game to get to know the company better. Using the latest technology, they were asked to catch "Dr. Gauss," a criminal who wants to destroy the most important internet connection points in the world.
"It was a new, but great, experience for all of us," says Thomas Teetz, director of marketing and recruitment at Rohde and Schwarz. "They got to know us as an innovative employer, and we got deeper insight into their skills."
Rohde and Schwarz is just one of an increasing number of companies in Germany using gamification to attract the best young talentand to recruit employees. "This means building a situation where the recruiting process feels more like playing a game than being in an interview," says Benjamin Gögge, a freelance product manager with a masters in game development.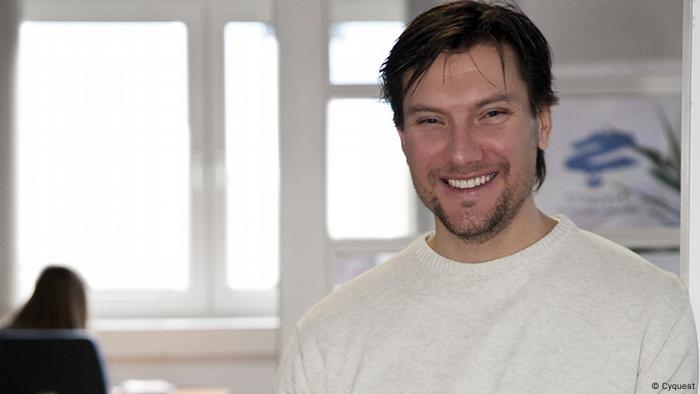 Cyquest is a company that creates games for companies. Its CEO Joachim Diercks thinks that by using gamification as part of the recruiting process, employers can give applicants an insight into the company, assess skills, and show off their innovation.
Should job-seekers be worried?
The trend, also known as recruitainment, has surged in Germany in recent years, says Joachim Diercks, from Cyquest. "We can see that in our balance sheets," he says. Lutz Leichsenring, from Young Targets, a recruitainment company, has also seen a growth in interest. It's used by employers in Germany in two main ways, says Diercks.
Firstly, to attract talent and create a buzz around a company among graduates, as Rohde and Schwarz are doing. "It provides an emotional element for the participants, which is crucial, because they get more attached to the company," says Teetz. "That's why recruitainment is becoming more and more important to us and other companies."
Secondly, businesses are gamifying online assessments to make them more efficient. "We can see if they really want the job," says Sarah Daun, who works for the apprentice department at German lender Targo Bank. "The applicants get an insight into the company and we get a picture of them." It also helps sift through applications. "We have around 27,000 applications for apprentices," says Daun. "So it's a lot and we need the tools to help pre-select the right people for us."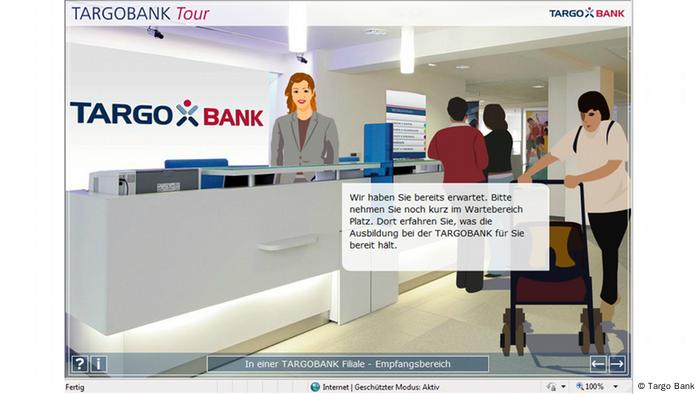 At Targo Bank, applications for its apprenticeship are asked to complete a 90 minute assessment which involves playing a computer game and controlling a virtual employee as they interact with customers.
The experience for applicants
With recruitainment on the rise, should job-seekers be alarmed? Not at all, says Diercks. In fact, they should see it as a good thing, he says. "First of all it makes something which is traditionally very dull more entertaining. Plus it gives a more accurate idea of what the company and job are, and makes the experience and the selection better," he says.
Nele Stender, bank advisor at Targo Bank, says she didn't know what a banker's day was like when she applied for an apprenticeship there. "I didn't know what the actual job of a banker was, so the test gave me an insight," she says.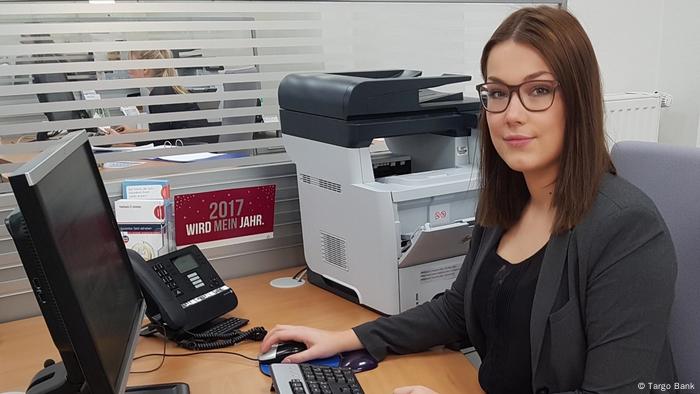 Nele Stender found that playing the game also made her less nervous when she was asked to interview, because she already knew about the company.
When Gögge was asked to write code to solve problems in an assessment he found the process more efficient. "You don't have to wait to get answers back," he says.
However, not everyone has had positive experiences. Mila Kesseli was asked to do an online assessment at Deutsche Post which involved collecting points by solving anagrams online. "You could change the level and choose easier ones," she says. "But then you'd get lower points. Or you could take the more tricky ones, but risk not solving it in time."
Kesseli didn't enjoy the experience. "It was confusing because I didn't know what they were looking for," she says. "It wasn't fun because you're under pressure and it's really quick."
When recruitainment goes wrong
One mistake companies can make is overdoing it, says Gögge. "If it feels too much like a game people might be offended," he says. "People can have the feeling it's too childish and has nothing to do with a sincere job application." The biggest pitfall is using gamification for the sake of it, says Diercks. "The biggest mistake you can make is to run a game which has nothing to do with reality," he says.
The rise of recruitainment doesn't spell the end for traditional interviews - it's just another hoop for applicants to jump through. "Gamification can never be the only way," says Teetz. "Implementing games is just one mix in our kit of different methods. Moreover, you have to prepare the games very carefully if you want to be successful."
Despite the pitfalls, gamification in recruitment is not going anywhere - so job-seekers may want to brush up on their gaming skills, as well as their CVs.