One quick glance at the photo and at the applicant's details is often enough for human resource personnel to put a written job application on the "reject" pile. One quick glance tells you a lot: sex, age, nationality - and that is often enough to stir up prejudice. Some groups end up on the reject pile more often than others: women, immigrants, and people with disabilities. After all, one quick glance is not enough to tell you what the applicant's qualifications are.
This is the reason why applications should be anonymous - at least in the first phase - to give candidates a chance to convince human resource personnel during the actual job interview, says Christine Lüders, the head of the German government's anti-discrimination body. This, she says, is the outcome of a pilot project that deals with equal opportunities in job applications: There were 246 positions to fill with the institutions which took part in the project. Most of the 8,550 candidates used a standardized application form, giving only information regarding their qualification. Candidates who had opted for the "traditional" application form, on the other hand, had their personal details crossed out.

A photo on an application can be very distracting
One finding of the study was that the photo in particular, says Lüders, often distracts from a candidate's qualifications. "It's only during the interview that the candidate can really make his or her skills shine through."
Eight institutions - companies, state institutions and local government bodies - took part in the study between November 2010 and the end of 2011. Among them were some of Germany's biggest names such as Deutsche Post and Deutsche Telekom, but also the German branch of French cosmetics group L'Oréal, the Federal Family Ministry and the municipal administration of the Northern German town of Celle.
Limited informative value
The study didn't provide a representative result, however, because it doesn't show how many candidates who were successful with anonymous forms would have been rejected if they had handed in a traditional application. In addition, the firms which took part already show a high degree of sensibility regarding equal opportunities. Nevertheless, the study provided a positive result, says Ulf Rinne from IZA, a German research institute for the Study of Labor, which co-organized the study: "If these companies already see a small positive effect," he told Deutsche Welle, "then we can assume that if we had a representative study the result would be even better."
Equal opportunities benefit companies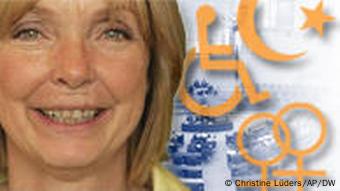 Christine Lüders, head of Germany's anti discrimination body
The idea for the project, says Rinne, arose after a study of the German labor market conducted by Konstanz University found that candidates with Turkish last names had 14 percent less chance pof being invited to a job interview than others. Ulf Rinne stresses that anonymous applications also benefit companies because the application process is all about avoiding expensive mistakes: Consultant group Roland Berger found that such mistakes create economic losses of billions of euros every year.
Conducting this pilot project was a good start, says Rinne, but he insists that anonymous applications only form part of a wider strategy. Stereotypes and prejudices are of course also an issue in the job interviews themselves, and beyond that: Many experienced employees don't get the opportunity to climb the next step on the career ladder because of their age, gender or nationality.
US as a role model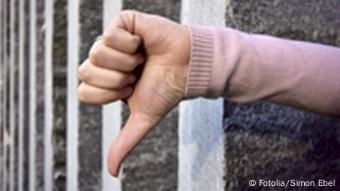 Decisions are often made after one quick glance
In Germany, it's still not common practice to use anonymous forms when applying for a job. For a long time, these forms were only used in the US, Sweden and France. Career consultants in the US in particular suggest giving as little information as possible regarding your personal life, saying details concerning where you come from, how many children you have or which hobbies you enjoy only distract the person who has to decide whether or not to invite you to an interview. Today, more and more people in Germany refrain from adding a photo to their application.
While the advantages may seem obvious there are no plans to introduce a law in Germany which would make the use of anonymous forms obligatory. Instead, the anti-discrimination body wants to increase companies' awareness and calls on their own sense of responsibility.
Different conclusions with project participants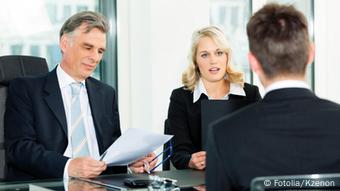 In an interview candidates can show what qualifications they really have
The companies which took part in the project draw different conclusions from it. Cosmetics firm L'Oréal has this verdict: "The applications we received and the interviews we conducted prove that our human resource staff have been sensitized and are already open and aware because of years of diversity seminars we have held with them." L'Oréal say 40 percent of female managers and a workforce made up from members of 40 nations are proof that the company's current strategy is successful. The company doesn't intend to change its recruitment procedures.
But Husam Azrak from Deutsche Telekom says the anonymous forms provide a considerable advantage for candidates because "they boost the courage of those who have the right qualifications but who have in the past been to shy to apply with a big group like Telekom." But his company, he says, doesn't benefit from anonymous application procedures "because Telekom wants to support diversity and wants to have more women in leading positions, have mixed teams of older and younger employees, or of Germans and immigrants, and so on." In other words: What others may consider a disadvantage is seen as a bonus when applying for a job with Telekom.
Fabrice Schmidt, CEO of online gift retailer "Mydays," admits that he would have sorted out some candidates if he had seen their photo on the application. He says taking part in the study benefitted his company because it launched a debate among staff members about recruitment policies. He says this was a re-assessment of whether or not they're actually as open-minded as they always thought they were. Mydays has a strong focus on diversity among staff, which, as naked figures show, has actually benefitted the company financially.
Author: Günther Birkenstock / nh
Editor: Joanna Impey