Authorities in Ecuador are investigating the alleged theft of more than 100 giant tortoise hatchlings from a breeding center in the Galapagos Islands.
"They were all taken at once — 123 in all. It was a robbery," local lawmaker Washington Paredes told the Agence France-Presse news agency.
At the time of their disappearance the babies were being housed at the Arnaldo Tupiza Center facility on Isabela, the largest island in the Pacific Ocean archipelago. The site is staffed by park rangers, volunteers and security officers, but Paredes said there are no cameras or light sensors.
"The tortoises are just there. If somebody wants to go in by night and steal, they can," he said.
Read more: Scientists discover new species of giant tortoise
The Galapagos prosecutor's office said Friday it had opened an investigation and was working to find those responsible. There are harsh penalties for environment-related crimes in Ecuador, with perpetrators facing more than 10 years in prison.
Biodiversity haven
The volcanic archipelago, about 1,000 kilometers (620 miles) off the coast of Ecuador, was declared a Natural World Heritage Site by UNESCO in 1978. It is home to a diverse array of plants and animals that are found nowhere else on the planet. Charles Darwin famously visited the Galapagos in 1835, and the creatures he observed there later inspired his theory of evolution and natural selection.
There are 12 different species of the iconic giant tortoise on the islands. According to the Environment Ministry, the missing babies belonged to the Chelonoidis vicina and Chelonoidis guntheri varieties, both of which are classified as endangered.
A Galapagos tortoise species became extinct in 2012 when an individual named Lonesome George, the last of his kind, died without producing any offspring.
Tortoise breeding programs have been set up on several of the islands in recent decades as part of an effort to boost numbers and ensure the species' survival.
Read more: Galapagos fights temptation of mass tourism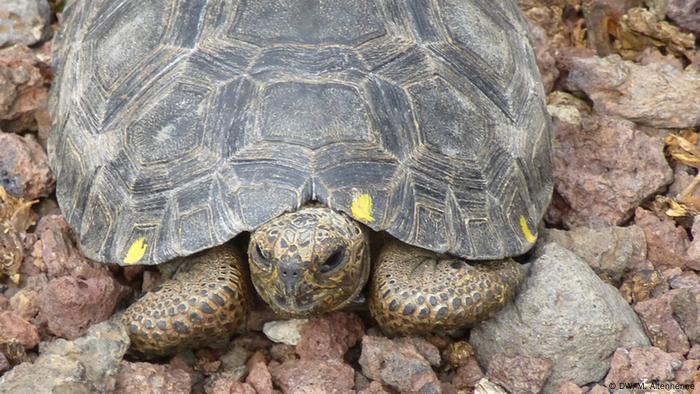 Breeding programs in the Galapagos aim to increase the population of endemic giant tortoises
nm/cmk (AFP, EFE, dpa)
Each evening at 1830 UTC, DW's editors send out a selection of the day's hard news and quality feature journalism. You can sign up to receive it directly here.