Paris' Champs-Elysees boulevard reopened early on Friday, picking up its usual morning routine after a gunman opened fire on police late on Thursday, killing one police officer and injuring at least two others.
A spokesperson for the German Foreign Office also confirmed that a female German tourist was injured in the attack. In a tweet expressing its condolences, the Foreign Office said it would continue standing shoulder-to-shoulder with France.
The assailant, identified as 39-year-old Karim Cheurfi, was shot dead by nearby police officers. Paris prosecutors leading the investigation have since detained three of the suspected gunman's family members for questioning. A note which praised the so-called "Islamic State" (IS) and named Cheurfi, as one of its "fighters" was found near the attacker. The group had earlier claimed responsibility for the shooting.

Hours after the attack, a second man, who Belgian authorities had flagged to their French counterparts over possible involvement in the shooting, turned himself in to police in Belgium's northern city of Antwerp.
Read: France creates National Guard to combat terror threat
According to authorities, however, there was no link between the man and the Paris attack. A prosecutor in Antwerp said: "That man came to police late yesterday after he saw himself appear on social media as the number one terror suspect, relating to yesterday's facts.
"He was not part of a terrorism investigation," the Belgian prosecutor added.
'Barbarity and cowardice'
Speaking after a government security council meeting on Friday morning, French Prime Minister Bernard Cazeneuve said, "Barbarity and cowardice struck Paris last night, as they also recently struck elsewhere in Europe - in Berlin, Stockholm, in London."
"The whole of Europe is targeted because it represents the values and ideals of peace," Cazeneuve added.
Tighter election security
Looking ahead to Sunday's first round of presidential elections, the prime minister said more than 50,000 police and gendarmes had been mobilized to protect the election process. Some 7,000 additional soldiers will also be on patrol.
"Nothing must hamper this democratic moment, essential for our country," Cazeneuve said.
Read more: What you need to know about the French presidential election
The 11 presidential candidates were appearing on television on Thursday evening, making their final election pitches to voters, as the assault happened, shortly before 9 p.m. local time (1900 UTC).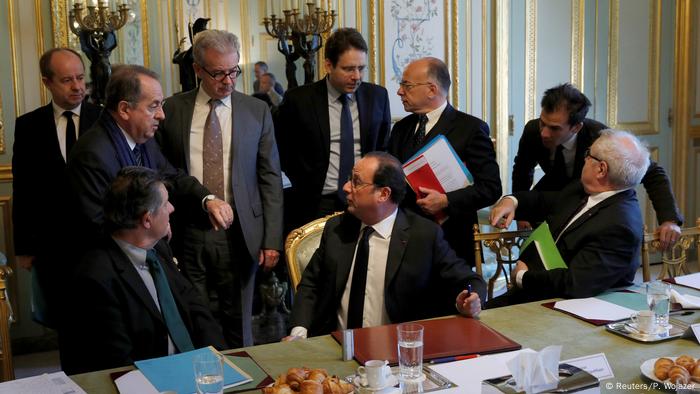 Outgoing French President Francois Hollande called an emergency security meeting early on Friday
Reacting to Thursday night's attack, far-right candidate Marine Le Pen, who has been campaigning on a hardline anti-EU, anti-immigration platform, called on the government to immediately expel foreigners monitored by intelligence services.
"We need to close our borders," she said, describing IS as a group which had "declared war."
Prime Minister Cazeneuve condemned Le Pen's rhetoric, claiming that the National Front (FN) leader was looking to exploit the shooting to score political points and divide people "without any shame." He added that there was nothing in the shooting investigation linking immigration to the incident.
Conservative candidate Francois Fillon, meanwhile, said that the fight against "Islamist totalitarianism" should be a priority of the next French president.
"I intend to fight with an iron fist," Fillon says, promising to maintain France's state of emergency.
Similar to Le Pen, Fillon, also vowed to expel any foreign Islamic fundamentalists and dissolve Salafist and Muslim Brotherhood movements.
"From Washington to Moscow, I will take the diplomatic initiative to create an international coalition against Islamist terrorism," he said.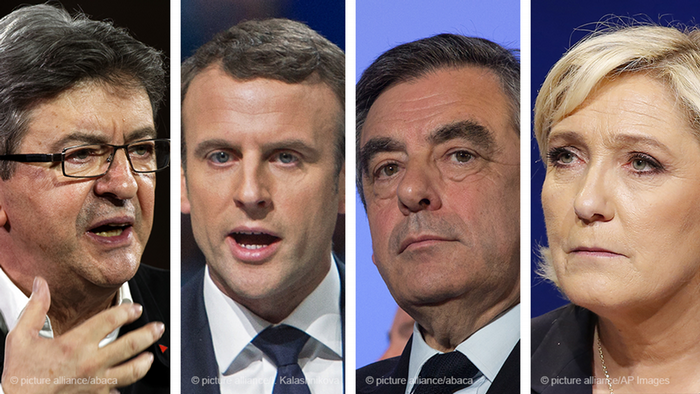 Leading candidates in the presidential election: Jean-Luc Melenchon, Emmanuel Macron, Francois Fillon, Marine Le Pen
Independent leading candidate Emmanuel Macron said voters should not yield to fear, division and intimidation in light of the most recent Paris attack.
"Our generation must take up this challenge ... by building a future around a progressive project, by re-establishing a Europe that protects people, indispensably, in the face of the terrorist threat and in the face of a changing world," Macron said.
No confirmed 'IS' link with gunman
While authorities are yet to confirm any links between IS and the assailant, President Francois Hollande said at a press briefing that he was convinced the incident pointed to a terrorist attack.
France has remained in a state of emergency since 2015. A spate of nationwide Islamist attacks over the last two years has killed more than 230 people.
Read more: French National Assembly votes to extend state of emergency for fifth time
Early reports on Friday suggested that the unnamed gunman was known to security services and had previously been flagged as an extremist. The Paris prosecutor's office leading the investigation of the Champs-Elysees attack said investigators found a pump-action shotgun and knives in the gunman's car.
In February, the assailant was arrested on suspicion of plotting to kill officers but was released due to lack of evidence.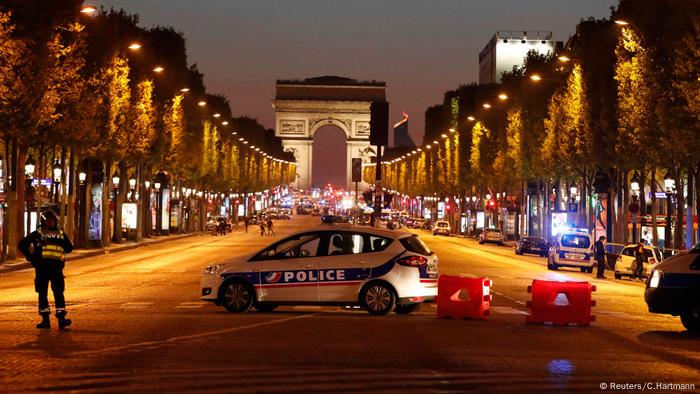 Police secured the world-famous Champs-Elysees boulevard overnight on Thursday
Previous convictions
In 2005, he was convicted on three counts of attempted murder, two of which were against police officers. The charges dated back to 2001, when the attacker was fleeing from police in a stolen vehicle. Armed, he shot and wounded both officers before being apprehended and placed in custody.
While incarcerated, he also seriously injured another officer who was escorting him from his cell, grabbing his gun and firing several times.
Champs-Elysees under lockdown
Video footage shared on Twitter on Thursday night showed the world-famous shopping mile teeming with police vehicles, as well as officers armed with machine guns and clad in helmets and bullet-proof vests following the incident. Helicopters were also seen flying low across the French capital.
Speaking to reporters several hours after the shooting, anti-terrorism prosecutor Francois Molins thanked the police for showing great courage in neutralizing the assailant and preventing a potential blood bath.
ksb/sms (AFP, AP, Reuters, dpa)