Clotilde Reiss, the French lecturer who was put on trial on Saturday, told the court she participated in post-election protests in Iran, but added that it was a "mistake," official media has reported.
"My motive to take part in the gatherings was a personal one. But I accept that it was a mistake and I should not have gone to these gatherings," Reiss told a revolutionary court in Tehran, according to the state IRNA news agency.
Reiss, who was in the country to teach French, has been charged with acting against the country's national security for being involved in unrest after the disputed June 12 presidential vote. She allegedly took a photograph of one of the riots and emailed it to a friend in Tehran. She was arrested by Iranian authorities while trying to board her plane back home on July 1.
Also on trial are two employees of the French and British governments. Nazak Afshar, who works for the French embassy, told a Tehran court on Saturday that she and other staffers had been told to offer shelter to protesters if required, the official IRNA news agency said.
"In the event that confrontations occurred in front of the cultural department of the embassy, we were told to offer refuge to protesters if they asked," Afshar told the court.
The other defendant in the dock is British embassy local staffer Hossein Rassam, detained during riots along with eight embassy colleagues. He has been charged with espionage.
Second round of trials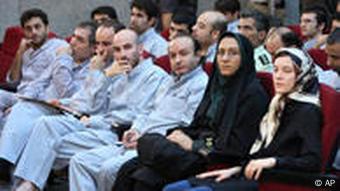 Reiss is one of more than 100 activists on trial in Tehran
This is the second round of trials of Iranian dissidents in Tehran. More than 100 activists, including several former officials, are charged with fomenting a revolution against the country's Islamic system, following the disputed June 12 presidential vote.
The poll led to the re-election of hardline President Mahmoud Ahmadinejad. Defeated moderate candidates Mir Hossein Mousavi and Mehdi Karroubi accused authorities of election rigging, and tens of thousands of their supporters took to the streets in Tehran and other major cities.
At least 20 protesters were killed and more than 1,000 were arrested in the biggest internal crisis to hit Iran since the 1979 Islamic revolution. Most of the people taken into custody have since been released, though there are still around 250 in jail.

mrm/dpa/AP/Reuters
Editor: Andreas Illmer