Freiburg has twice as many bicycles as cars. Bikes are the trademark of a very environmentally conscious community. The small southern city considers itself the environmental capital of Germany.
Life is difficult for car owners in Freiburg as parking spaces in the city center are rare. However, there is an abundance of bicycle racks, especially around the university campus. It's easy to forget where you "parked" in the maze of thousands of bicycles.
A 400-kilometer (250-mile) network of bike paths criss-crosses the city. Two-wheeled traffic can get clogged along some of the routes. One of the biggest bottlenecks occurs along the Blaue Brücke (Blue Bridge), which intersects the railroad tracks on the way to the university. More than 10,000 cyclists traverse that route every day.
Wet feet and wedding bells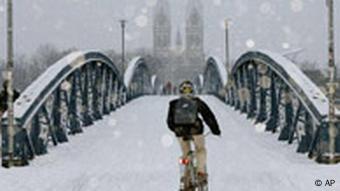 Faithful cyclists, rain or shine
Freiburg's picturesque historic center, however, is off-limits to cyclists. The narrow alleyways and winding curves are more suited for a stroll than a bike ride anyway.
And then there are the "Bächle" -- small canals, about 30 centimeters (1 foot) wide and 10 to 12 centimeters (4 to 5 inches) deep, which are unique to Freiburg. They wind through the city center on both sides of most streets. One wrong step will land you in the water.
Local legend has it that if you step in a Bächle, you'll soon marry a Freiburg citizen. So be careful -- or careless, as you like.
Environmental capital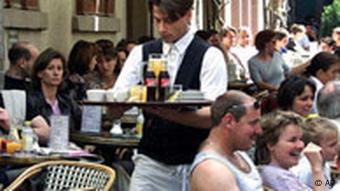 Stop for a beer when you get tired of cycling
The cyclists are a fundamental part of Freiburg's environmentally friendly image, but there's more to it than that. No other city in Germany has as many environment-related institutions as Freiburg, for example.
In addition, solar energy plays a pivotal role in the city of just over 200,000 residents. Conveniently, Freiburg is located in the middle of the sunniest region in Germany. There are 2,000 square meters (21,500 square feet) of solar cells on Freiburg's roofs, and the sports stadium even uses solar power to operate its floodlights.
It may just be a matter of time before the residents will be riding to work on solar-powered bicycles.