The latest offering, Business News, was launched this week and will be available in eight German markets. The paper was released by publisher Holtzbrinck Verlag, which also puts out business daily Handelsblatt, Berlin's Tagesspiegel newspaper and business weekly Wirtschaftswoche.
The makers of Business News are being cautious in the paper's infancy in order. The paper was launched during the summer vacation with a circulation of just 80,000 copies. The paper is only distributed to offices, 1,000 so far.
Axel Springer, publisher of mass-circulation Bild tabloid, was reportedly planning a response to the launch of Business News, with the almost immediate release of another competing publication, but no moves have yet been made.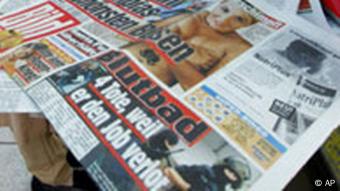 Bild-Zeitung publisher Springer is surely on its toes thanks to Business News

But Bild is keeping an eye on the new market entry, said the University of Amsterdam's Piet Bakker, an expert on free newspapers in Europe.
"Newspaper wars" in Cologne
Attempts to launch free commuter newspapers in Germany have been unsuccessful in the past. In Cologne, the introduction of the free daily 20 Minuten Köln by Norwegian publisher Schibsted in 2001 sparked a ''newspaper war'' between the new publication and local publishers. In retaliation, Springer launched Köln Extra, and DuMont Schauberg, the publisher of numerous Cologne-area papers, started Kölner Morgen, both free papers.
"The three in Cologne were real war casualties -- they fought until 20 Minuten died, then the others pulled out," Bakker said.
Rumors circulated in 2005 that Metro, a successful commuter daily distributed in 93 countries across the world, was quietly preparing to launch into the German market, but it still not yet.
A spokeswoman for Metro refused to comment on the company's plans.
Metro began in Stockholm in 1995 and has grown vastly. The paper says it has a daily readership of 13.5 million across Europe.
The paper's audience is "the young, affluent, well-educated, metropolitan reader," who has ''largely been lost to the newspaper industry," the spokeswoman said. ''By creating a product that is designed for busy modern lives, Metro has been able to deliver the TV demographic on a global basis."
Metro's success on the European market has been attributed to its compact size, which is easily read on commuter transport, and the editorial content, which offers "light news" more akin to that of Europe's tabloids. In the meantime, many European papers, particularly in Britain, have introduced more formats. In Germany, Springer's Die Welt daily is the only large-selling paper to have followed the trend.
According to the World Association of Newspapers (WAN), based in Paris, European readership of free newspapers has doubled over the last three years. Around 19 million of about 28 million free newspapers distributed daily around the world are read by Europeans, WAN said.