Several German newspapers reported Thursday that British media tycoon David Montgomery, a former Mirror Group Chief Executive, along with British venture capital company 3i and investment bank Veronis, Suhler, Stevenson, is in exclusive negotiations to take over the Berlin-based publisher.
The online arm of news magazine Spiegel reported that the consortium would have to make a concrete offer to the Stuttgart-based media group Holtzbrinck, the owner of the Berliner Zeitung, within the next two weeks. The Web site said that Montgomery's investment fund Mecom, along with the two other parties, were expected to bid between 150 and 160 million euros ($180 to $192 million) for the publisher.
The companies involved in the deal refused to confirm the reports or comment on the deal.
"The most-hated manager"
Germany's Süddeutsche Zeitung said in an article that the three-party consortium wanted to double the annual sales of the publisher, Berliner Verlag, which are current at 20 million euros. It has been reported that the consortium would consider selling off its printing press as well as its Berlin events magazine Tip to reach that goal.
In addition, the article reported that the intensive subscription campaign in the west of the city for the group's flagship newspaper, Berliner Zeitung, would be stopped.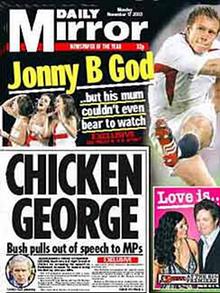 Daily Mirror
The tough measures would be in line with Montgomery's reputedly no-nonsense style. In 1992, he took over the Mirror Group with the papers Daily Mirror and The Independent.
At the time Montgomery implemented a harsh belt-tightening course and fired several editors and journalists leading Britain's Observer to name him "the most-hated manager in British journalism."
If the consortium did manage to take over the publisher, it would mark the first time that a German newspaper would be sold to foreign investors.
However, it would not be the first time that Montgomery and 3i have worked together. The two bought Ireland's Local Press Group together in 2003 and sold it at a profit last month.
More changes afoot in Berlin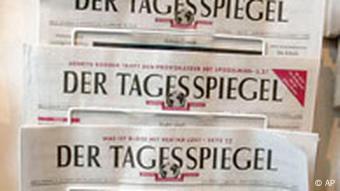 Der Tagesspiegel
Currently, the the Holtzbrinck media group is involved in separate negotiations about selling off its second publishing house in the German capital, which publishes another daily, Der Tagespiegel, Spiegel Online wrote. Reportedly, the Süddeutsche group as well as the Spiegel group are interested in buying it.
The Stuttgart-based Holtzbrinck group already owns the broadsheets Handelsblatt, Wirtschaftswoche and Die Zeit, all of which enjoy strong circulations.