Frauke Petry was not in attendance when the Alternative for Germany (AfD) convened in Berlin on Tuesday to discuss the formation of a parliamentary group and choose parliamentary speakers. The party co-chair was in Dresden, where she told German news agency dpa that she will be leaving the AfD.
"It's clear that this step is coming," she told dpa, although she did not set a date for when she would leave. She also said that she and two other AfD deputies in the regional parliament in Saxony would be quitting the parliamentary group there. Petry's husband, Marcus Pretzell, an influential AfD leader in Germany's most populous state North Rhine-Westphalia, is also quitting the party.
"My decision is based exclusively on my not very optimistic view of how the AfD is likely to develop," Pretzell told newspaper Die Welt.
On Monday, in a joint appearance with lead candidates Alice Weidel and Alexander Gauland after the AfD entered the Bundestag with 94 seats, Petry surprised her fellow party leaders by announcing she would vote as an independent. She said her decision was based on her belief that extremist statements made by other party leaders precluded it from exercising "constructive opposition." Petry won her seat in parliament outright in her local district.
In the wake of that bombshell, Weidel and other leading lights in the AfD had called on Petry to quit. The lead candidates were still nonplussed the day after Petry's surprise announcement but said they didn't think it was the sign of major rebellion.
"We don't think there will be another deputy, but we'll have to wait at see," Weidel said. "Petry's step surprised us us all, but thus far we can't see that it's a trend."
"I hope not," said Gauland when asked whether he thought there would be other "defections" from the AfD. "But I can't read people's minds."
As expected, Gauland and Weidel were elected as the AfD's parliamentary leaders early on Tuesday evening, with the support of 86 percent of the party.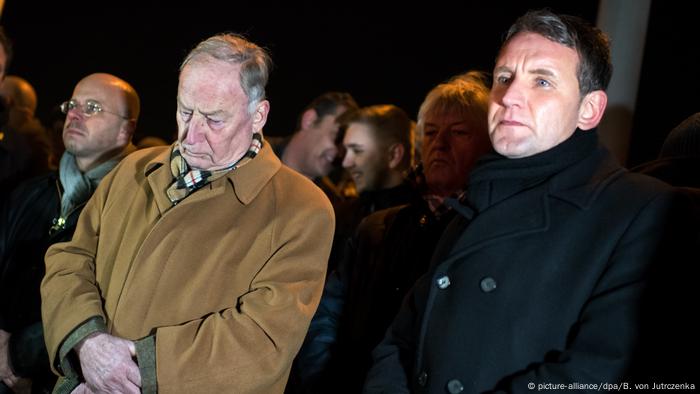 Hardliners Gauland (left) and Höcke pushed Petry aside
Petry as victim of an extremist right-wing putsch
The conflict between hardliners led by Gauland and Weidel and "moderates" like Petry had been building for some time. At its party conference in Cologne in April, the AfD decided against adopting the toned-down course Petry had wanted, and in her statement on Monday in Berlin, she didn't mince words about the major differences she had with Gauland and Weidel.
"In a party which has been marginalizing political realists for almost a year and in which moderate members have been discredited on all levels, a once-powerful political platform is threatened with destruction," Petry said. "The silent departure of serious members from all party organs is painful evidence of this."
Magazine Stern reported that Petry had not spoken with Weidel or Gauland since her defeat at the party convention.
Hajo Funke, Germany's leading expert on the far right in the country, says that since the party conference the AfD has indeed been growing more and more radical, led by Gauland and Thuringia AfD leader Björn Höcke, who has been accused of harboring Nazi sympathies. Petry tried, without success, to get Höcke thrown out of the party.
"In a sense the Gauland-Höcke axis seized power from Petry in a putsch," Funke told foreign journalists in Berlin on Tuesday. "Ever since, in terms of those in power, the party can only be described as radically right-wing. And this group around Gauland and Höcke, assisted by Alice Weidel, has the power in their hands. Petry made that abundantly clear with yesterday's bombshell."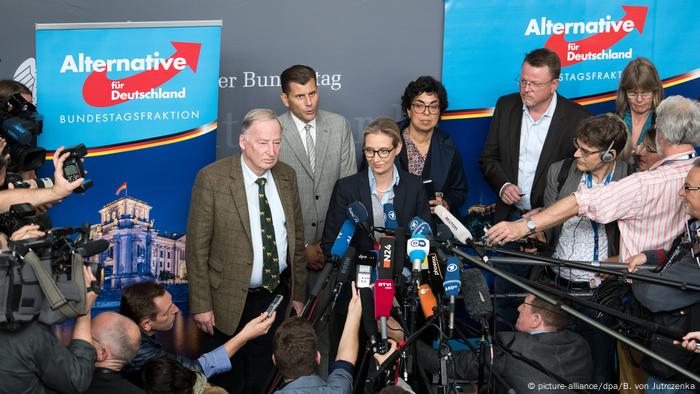 The party had to answer questions about possible defections on Tuesday
Hardliners use 'too much Nazi vocabulary'
The question now is whether a schism will develop between the hardliners who often lean toward outright racism and moderates who might choose to follow Petry's lead.
"The internal struggle for power is over, but it's resulted in members being driven apart," said Funke. "We don't know her next moves. But she's tactically gifted. Otherwise she wouldn't have gotten where she is. She's been stripped of power, but she continues to represent a minority within the party that is more moderate, or at least says it is."
Theoretically, Petry could form a parliamentary group of her own, but that would require her to persuade more than 30 other AfD parliamentarians to break ranks. Funke thinks that is unlikely, and the mood at Tuesday's AfD party meeting in Berlin was buoyant with no signs of imminent mass rebellion.
But that doesn't mean that all members of the party are singing from the same hymn sheet.
"The AfD is riven by struggles for power," Funke explained. "We see it in Mecklenburg-West Pomerania, Lower Saxony, North Rhine Westphalia, Baden-Württemberg…and in Saxony-Anhalt, where [state AfD Leader André] Poggenburg uses too much Nazi vocabulary. He's really a committed, ethnically chauvinist right-wing radical."
In the northeastern German state of Mecklenburg-Western Pomerania, where the AfD took 18.6 percent of the vote in Sunday's national election, four members of the regional parliament have left the party to form their own parliamentary group.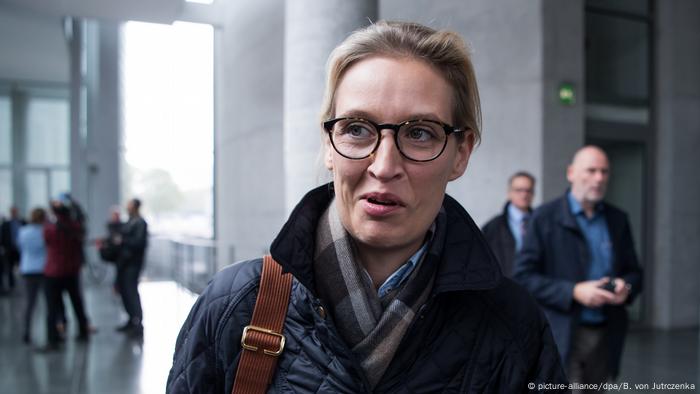 Weidel often presents herself as more 'moderate' than Gauland
Weidel as an 'ice cold' angel
Perhaps in an attempt to smooth over such discontent, Gauland struck a somewhat conciliatory tone before Tuesday's meeting.
"The election is over, and we know we have a great responsibility in parliament, among other things to the people who voted for us," Gauland said. "And of course the language of a campaign is different from that in parliament."
But Funke says that anyone who hopes the overheated rhetoric of the campaign will cool down is kidding himself. He characterizes Gauland as a dyed-in-the-wool national chauvinist and doesn't see Weidel, who is often depicted as the "voice of reason" in the duo, as being any more moderate.
"Alice Weidel is the ice-cold angel of this party," Funke said, citing a racist email and a Facebook post she wrote in April comparing the annual state costs per citizen for asylum seekers with the number of returnable bottles a German pensioner would have to collect to earn the same sum. "That's hate mongering — period."