Prosecutors on Thursday charged the leader of France's far-right Front National party (FN), Marine Le Pen, for posting three violent images of atrocities suspected of having been committed by the terrorist group "Islamic State" (IS).
The charges against Le Pen include sharing "violent messages that incite terrorism or pornography or seriously harm human dignity." She faces up to three years in prison and a €75,000 ($91,000) fine if convicted.
Read more: France's far-right Marine Le Pen accuses HSBC and SocGen banks of 'fatwa'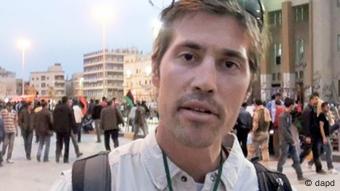 James Foley was beheaded by IS in 2014
Under France's legal system, the charges initiate a type of formal investigation that usually ends in a trial. Prosecutors were able to press preliminary charges after the National Assembly lifted her parliamentary immunity in November.
'This is IS'
Le Pen, who lost the 2016 presidential election to Emmanuel Macron, posted the three images to Twitter several weeks after IS terrorists killed 130 people in Paris in November 2015.
The photos, which were accompanied by the caption "This is IS," showed the beheaded body of American journalist James Foley, a man being burned alive in a cage, and a tank crushing another man.
The FN leader was responding to a journalist who had compared the French far right to IS. She later deleted the photo of Foley after a request from the journalist's family.
Embattled leader
The charges are the latest legal headache for Le Pen ahead of the FN's March 10-11 party congress.
Preliminary charges were handed down to the FN and its leader in 2017 for using European parliamentary aides on an EU salary to conduct domestic FN party work. She has dismissed those accusations.
Each evening at 1830 UTC, DW's editors send out a selection of the day's hard news and quality feature journalism. You can sign up to receive it directly here.
amp/sms (AFP, Reuters, dpa)