The number of people reporting sex crimes in France increased dramatically following the scandal involving Hollywood mogul Harvey Weinstein, France's interior ministry said Thursday.
The number of cases reported for sexual assault crimes, including sexual harassment but excluding rape, rose 31.5 percent in the fourth quarter of 2017 compared to the same period in 2016. Women made up more than 80 percent of the victims.
Reported rape cases were up 12 percent year-on-year for the whole of 2017, while reported sexual assault cases rose by 10 percent.
Read more: What do Europeans consider sexual harassment?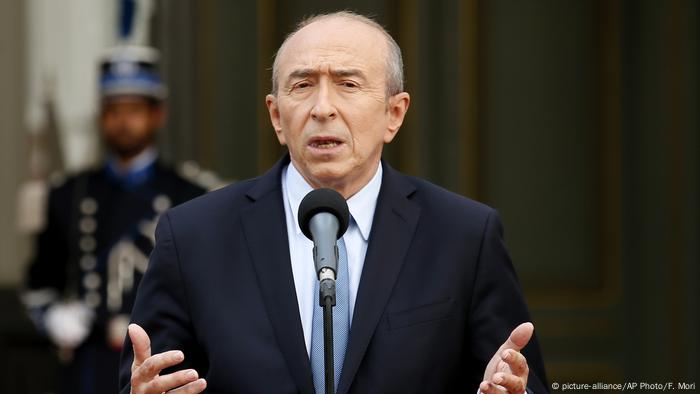 Interior Minister Gerard Collomb linked the rise in reported crimes to the Weinstein scandal
Weinstein effect
"One can see the effect of reporting of possibly older incidents in the context of women speaking out following the revelations of the 'Weinstein' affair," an interior ministry statement said.
Interior Minister Gerard Collomb backed up that assessment, telling French broadcaster Europe 1 radio the Weinstein revelations appeared to have made victims "less hesitant" to come forward.
Multiple women have accused former film producer Harvey Weinstein of sexual harassment and rape since October.
The scandal — one of the most prominent within the entertainment industry in recent years — sparked the global "#MeToo" movement encouraging women to speak out against sexual harassment and report sexual crimes.
Read more: 100 days of #MeToo
Divisive movement
The French version of the movement, "#BalanceTonPorc" ("Call out your pig"), has divided women in France.
Film star Catherine Deneuve and around 100 other prominent French women penned a letter in early January criticizing what they saw as the movement's excesses.
The signatories lauded the "legitimate protest against the sexual violence," but denounced the movement's "puritanism" and evolution into a "witch-hunt" against men.
Read more: French film star Catherine Deneuve apologizes to sex assault victims
amp/msh (AP, AFP)