France and Britain have criticized their NATO allies for not doing enough to protect civilians and said the alliance was lacking an effective strategy for destroying the regime's heavy weapons.
"NATO must play its full role, and it is not doing so sufficiently," Foreign Minister Alain Juppe said on Tuesday. He added that he would raise the issue at a meeting of EU foreign ministers in Luxembourg on Tuesday and with his NATO counterparts later this week in Berlin.
British Foreign Secretary William Hague called for NATO to "intensify our efforts." He urged other alliance countries to match London's supply of extra ground attack aircraft in Libya.
NATO, however, rejected the criticism. It said it was conducting its military operations in Libya "with vigor" within its mandate.
"The pace of the operations is determined by the need to protect the population," it said.
France, together with Britain and the United States, initially led the airstrikes against Moammar Gadhafi's forces, and was said to be unhappy about handing over control to NATO.
Gadhafi's forces have been using heavy weapons to bombard rebels in the western city of Misrata, which has been under siege for weeks.
Rebels demand Gadhafi step down
Meanwhile, the rebels have rejected an African Union peace plan, saying that it did not meet their demand that the Libyan leader step down along with his regime. Rebel leader Mustafa Abdul Jalil told a news conference in the rebel-held town of Benghazi that Gadhafi and his sons had to leave immediately to be safe.
Western governments have also rejected in principal any deal that did not include Gadhafi's removal from power. US Secretary of State Hillary Clinton commented Monday that "there needs to be a transition that reflects the will of the Libyan people and the departure of Gadhafi from power and from Libya."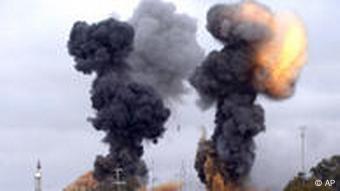 NATO forces have continued airstrikes against Gadhafi's forces
Jalil's remarks came after talks with an African Union delegation in Benghazi, a day after Gadhafi reportedly agreed to the AU peace proposal.
"The brother leader delegation has accepted the road map as presented by us," said South African President Jacob Zuma, who led the delegation of African leaders to Tripoli. "We have to give a cease-fire a chance."
NATO Secretary General Anders Fogh Rasmussen on Monday said any ceasefire must be "credible and verifiable," stressing that the UN resolution on Libya calls for a "complete end to violence" against civilians.
Ahead of meetings of the so-called contact group and NATO foreign ministers in Doha and Berlin respectively later this week, Rasmussen also said the crisis in Libya would not be solved by military action alone. Any solution, he said, "must respond to the legitimate demands of the Libyan people for political reforms."
Authors: Rob Mudge, Darren Mara (AFP, AP, dpa, Reuters)
Editors: Sabina Casagrande, Michael Lawton