The deal reached late Tuesday between pro-government forces and rebels affects al-Foua and Kefraya, two Shiite-majority towns encircled by rebel fighters, and Zabadani and Madaya, opposition-held towns besieged by government forces.
All the inhabitants of al-Foua and Kefraya are expected to leave the two towns, which are located in the northwestern province of Idlib. It remains unclear, however, whether the entire populations of Madaya and Zabadani would empty out or just the Sunni militants and their families.
Kefraya and al-Foua are encircled by rebel forces whereas Madaya and Zabadani are surrounded by government forces.
According to the UK-based Syrian Observatory for Human Rights, the evacuation deal is expected to involve more than 30,000 people and take place over sixty days starting next week.
"The evacuations are not expected to begin until April 4 but, as a goodwill measure, a ceasefire for the towns came into effect" Tuesday morning and will last for nine months, Observatory director Rami Abdel Rahman said. "It is calm there now," he added.
A cover for forced displacement?
However, the Observatory criticized the evacuation deal as a purposeful policy tool to redraw Syria's political map by forcefully displacing President al-Assad's opponents away from the major cities in Syria's western region.
"This is a demographic change on a sectarian basis," said Abdel Rahman, adding that many residents of Madaya were unhappy about the agreement.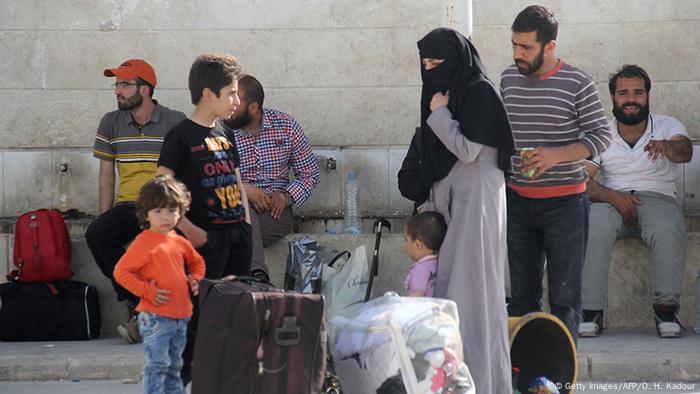 Residents of Zabadani await evacuation in a previous effort in April 2016
The Syrian government has concluded other agreements that provide safe passage to anti-government militants who move to rebel-held areas along the northern Syrian-Turkish border.
The newest evacuation deal is part of a broader agreement reached in 2015 that resulted in the equal and simultaneous execution of evacuations and aid deliveries.
Despite overseeing the initial framework, the United Nations admitted the "tit-for-tat arrangement" complicates aid efforts. The multilateral organization, which hosted a new round of peace talks in Geneva on Wednesday, was not involved in the evacuation agreement.
Alongside the reciprocal evacuation and ceasefire, the newly-brokered deal will also see the Syrian government release 1,500 individuals imprisoned for political activism since the start of the 2011 uprising against President al-Assad.
The six-year long civil war has resulted in more than 320,000 deaths and displaced many millions more.
cmb/jm (Reuters, AFP)