Gunmen attacked the buses on Sunday as they were heading to the pro-regime, Shiite towns of Foua and Kefraya in Idlib province, where thousands of civilians remain trapped.
While some buses were able to enter the towns, as many as 20 buses were set upon by rebels, who forced the drivers to get out, shot at the vehicles and then torched them, AFP news agency reported. Both Syrian state media and the UK-based Syrian Observatory for Human Rights confirmed the attack, with the latter pinning the blame on the al-Qaeda-affiliated Fatah al-Sham Front.
The incident sparked fears that a renewed effort to evacuate the besieged city of Aleppo could be jettisoned. Plans to help civilians and rebels in the opposition-held pockets of the city have already faced hurdles over the past week, though one military source said the attack in Idlib shouldn't affect the operation.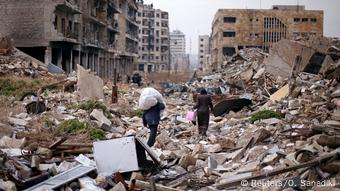 People walk amid the rubble in the devastated city of Aleppo
Major operation
The UN has said that around 40,000 civilians remain trapped in Aleppo, which has experienced some of the most devastating destruction since the beginning of the war almost six years ago. After the operation to evacuate people from the city was suspended on Friday, citizens were forced to spend the night in freezing temperatures in bombed-out buildings as they waited for new developments.
Now, a new deal has been reached and the evacuation of the 40,000 civilians will be conducted in two phases, a rebel source told AFP news agency.
"In a first step, half of the people besieged in Aleppo will leave, in parallel with the evacuation of 1,250 people from Foua," the source said.
"In a second step, 1,250 people from Kefraya will leave in parallel with the evacuation of the remaining people in Aleppo."
Churkin said Russia would veto the resolution
Russia to veto UN plan
In another significant development, Russia says it will veto a UN resolutionthat would give the international organization immediate access to Aleppo in order to monitor the evacuations. While Russian UN Ambassador Vitaly Churkin said he supported monitoring in theory, he was opposed to the draft submitted by France.
Churkin explained that the idea that monitors "should be told to go to wander around the ruins of eastern Aleppo without proper preparation and without informing everybody about what is going to happen - it has disaster written all over it."
Nonethless, France's UN Ambassador Francois Delattre said he intends to put the resolution to a vote as soon as possible and wouldn't accept any changes.
blc/rc (Reuters, AFP, AP, dpa)