Stoltenberg warned on Sunday of the dangers of military escalation in warzones such as Syria, the same day the UN Security Council planned to meet to discuss the worsening crisis in the city of Aleppo.
Stoltenberg told the German newspaper "Bild am Sonntag" that a military mission in the country, which has been embroiled in an increasingly brutal civil war for more than six years, could have made an already bad situation worse. "Sometimes it's right to use military means - such as in Afghanistan. But sometimes the costs of military missions are greater than their benefits," he said.
A military solution does not always lead to a happy ending, Stoltenberg added. "If every problem, every humanitarian catastrophe were answered with military force, we would end up in a world with even more war and suffering," he said.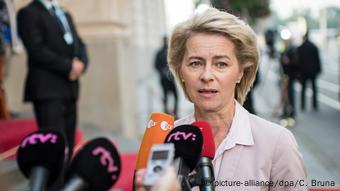 Von der Leyen criticized Russian and Syrian military involvement in Syria
In the same newspaper, German Defense Minister Ursula von der Leyen criticized the bombardment of civilians by Russian and Syrian armed forces. "Neither the Syrian people nor the international community will forget the merciliness of [their actions in] Aleppo, which is unjustifiable," von der Leyen said. "Whoever is responsible for the deployment of poison gas and bombs on hospitals and children can't simply go back to normal."
UN mulls new resolution
Also on Sunday, the UN Security Council planned to vote on a French-drafted resolution demanding that the international organization receives immediate and unconditional access to Aleppo and other besieged areas of the country. The draft calls on UN forces already on the ground to be re-deployed to carry out "neutral monitoring" and "direct observation and to report on evacuations," according to The Associated Press. It also emphasizes the need for voluntary civilian evacuations.
On Friday, the French delegation to the UN said it had received "overwhelming" support from the other members of the council.
Though Russian UN Ambassador Vitaly Churkin said earlier this week that he would examine the draft, it was still unclear whether the council would pass it. Churkin also expressed skepticism that UN forces could de redeployed so quickly.
According to the UN, some 40,000 civilians and rebels remain trapped in opposition-held parts of Aleppo, which recently has seen some of the worst violence of the entire war.
blc/tj (dpa, AFP, Reuters, AP)