Citizens around the world are taking climate action to the courtroom by suing their own governments and some of the world's biggest oil and energy companies over failing to protect against the risks and consequences of climate change.
According to a survey by the United Nations Environment Program and Columbia Law School, climate change lawsuits are on the increase — with nearly 900 cases in 24 countries as of March last year — and courts will play a greater role to in the fight against global warming over the year to come.
Here are four high-profile climate lawsuits to watch in 2018 — each is likely to make waves by setting a possible legal precedent in pressuring governments and companies to take responsibility over climate change.
Citizens vs. the government of the Netherlands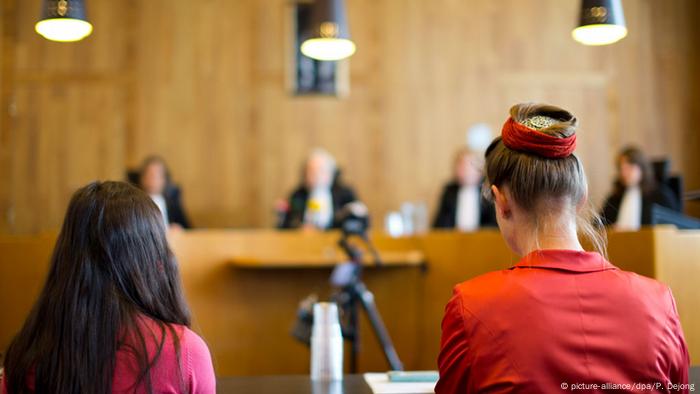 Plaintiffs wait for the verdict in Netherlands climate lawsuit
It started with a precedent-setting climate lawsuit in the summer of 2015, when 900 Dutch citizens, represented by the Urgenda Foundation, took their government to court to cut greenhouse gas emissions nationwide.
This was the first time a group of citizens sued their own government over climate change action — and won.
The lawsuit resulted in a Dutch court ordering the government to cut greenhouse gas emissions nationwide by at least 25 percent by the year of 2020 (compared to 1990 levels), forcing it to take more measures against climate change.
"The state must do more to avert the imminent danger caused by climate change, also in view of its duty of care to protect and improve the living environment," the verdict read.
The landmark ruling is the first case in which regular citizens have managed to hold their government accountable for taking insufficient action to fight global warming. It is also the only case in the world thus far to define a government's obligation to control climate change.
While the Dutch government has taken concrete steps, such as announcing a coal exit, it is also appealing the verdict, and a first hearing is scheduled for May 2018.
The Dutch landmark case laid the foundations for similar lawsuits around the world, for instance by a group of Belgian artists, filmmakers and rock stars, who are suing the Belgian government to increase its climate change game, and make deeper greenhouse gas emission cuts.
Youth vs. the government of the United States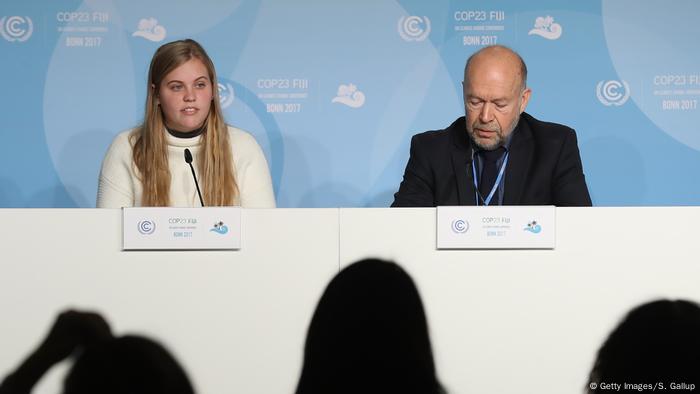 Scientist James Hansen (right) with his granddaughter, who is among US youth suing their government over climate change
Another lawsuit inspired by the Dutch court case was started by a group of American youths, who are suing the US government for failing to curb climate change.
The 21 plaintiffs, who are between 10 and 21 years old, and come from all over the US, filed the climate change lawsuit together with their attorneys and climate scientist James Hansen in 2015.
All the kids and teenagers in the plaintiff group have been personally impacted by climate change. Some of them live on farms being affected by drought, while others have lost their homes due to floods, or face health issues due to forest fires.
In the unprecedented lawsuit, entitled "Juliana vs. US," the youth accuse the federal government of violating the younger generations' constitutional rights to life and liberty by failing to take action against global warming. They argue that the government is failing to protect essential public trust resources like air and water, which are vital to survival.
"Our role as plaintiffs is to show them the personal harm climate change is causing. We represent the children — not just of this nation, but of the entire world," 20-year-old student Tia Hatton told DW.
"We are all very worried about our future, health and safety from the climate change impacts that we're seeing already, and that will worsen as time goes on," said the plaintiff in the lawsuit.
An initial ruling in an Oregon district court upheld their main argument that "the government has known for more than 50 years that the carbon dioxide produced by burning fossil fuels was destabilizing the climate system in a way that would significantly endanger plaintiffs, with the damage persisting for millennia."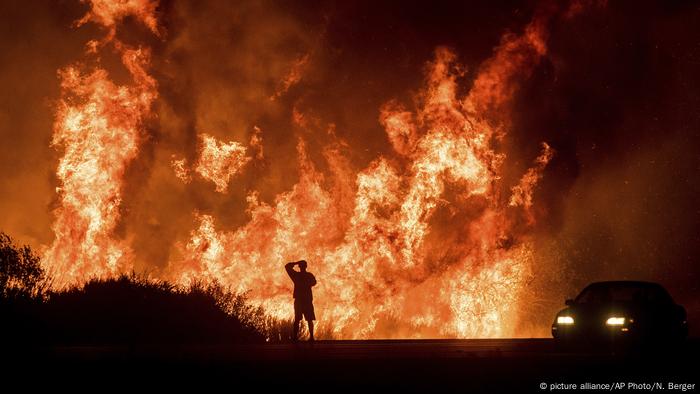 Wildfire is among the impacts of climate change more strongly felt in recent years in the US
Yet, the court case argues, the government has failed to take action, making it responsible for some of the harm caused by climate change.
Since then, the landmark court case has been the target of strong opposition from lobby groups, the fossil fuel industry, and the US government, which sought for the case to be thrown out.
The US government has even asked a federal appeals court to block the lawsuit, claiming it could lead "to a constitutional crisis."
But motions for appeal were denied and the lawsuit was ruled valid by US District Judge Ann Aiken.
She wrote in her ruling: "This lawsuit may be groundbreaking, but the fact does not alter the legal standards governing the motions to dismiss. [...] Federal courts too often have been cautious and overly deferential in the arena of environment law, and the world has suffered for it."
The case will now officially go to trial in February 2018.
Peruvian farmer vs. German energy company RWE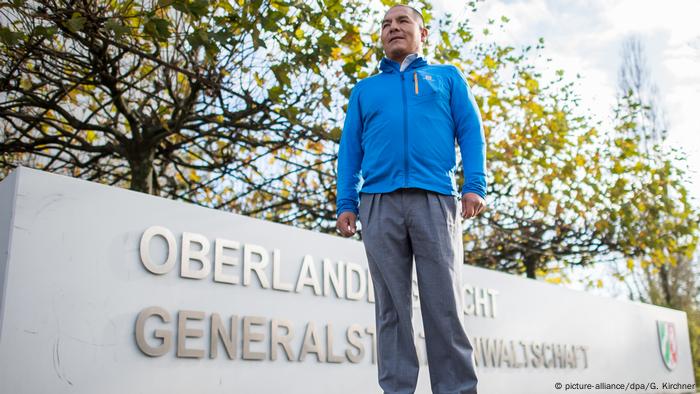 Peruvian farmer Saúl Lliuya ia taking on German energy company RWE over greenhouse gas emissions
Not just governments are facing legal challenges over climate — also a Peruvian farmer and mountain guide is suing German energy firm RWE.
He is claiming that the company's contribution to climate change is threatening his home, and is asking RWE to take on financial responsibility for the damage.
Saúl Lliuya from Huaraz, a city located in the Andean Mountains in western Peru, says his family and a large part of the city are facing catastrophic flooding as global warming melts a nearby glacier.
RWE's coal power emissions contribute to around 0.5 percent of global climate change, so the company should have to pay around half a percent of the measures required for protecting Lliyua's home and the area, says the plaintiff, who is being supported by environmental organization Germanwatch.
The farmer is asking for €17,000 ($20,000) from RWE, which would go toward funding flood defenses he plans to install for his community, as well as a further €6,384 in reimbursement for money he's already spent out of his own pocket on protective measures.
RWE says the case has no legal basis, and that the alleged danger of flooding has never been sufficiently demonstrated. The company further argues that emitting CO2 is not illegal, as RWE has authorization under carbon emissions trading laws.
Plus, RWE says climate change is a global problem that has to be solved on a state and international level, meaning individual companies should not be held responsible.
But a German court decided that Lliuya's allegations had merit and ruled to proceed with the case, which is due to hear evidence in 2018.
It is the first time a German civil court has been asked to rule on whether a company can be held financially responsible for its contribution to the effects of climate change in other parts of the world.
ExxonMobil vs. US state attorneys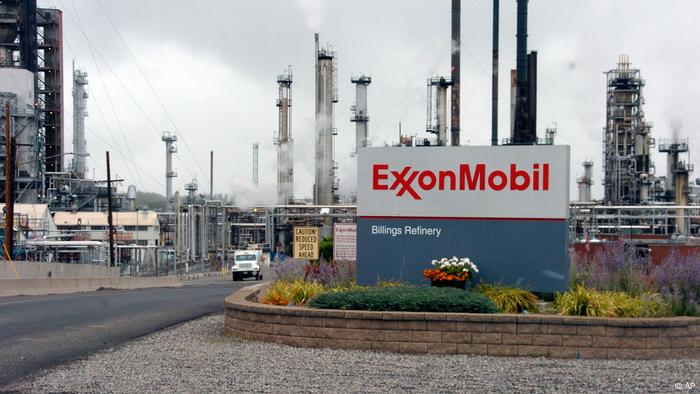 Oil multinational ExxonMobil is accused of covering up research over climate change for decades
In the US, a similar case is coming to a head this year: the first-ever US legal action aimed at holding the oil giant ExxonMobil accountable for its climate change coverup.
The American multinational oil gas corporation is being sued over failing to safeguard Massachusetts communities against pollution relating to climate change impacts, and lying to the public about the risks of climate change.
The suit was started by a group of state attorneys general, led by New York's Eric Schneiderman, after it came to light that Exxon executives had been aware of the climate risks associated with fossil fuels as early as 1977, but launched a campaign to cover up those findings.
According to the lawsuit, ExxonMobil endangered communities by ignoring the threat posed by severe weather events and rising sea levels to its Everett facility along the Mystic River in Massachusetts — despite its long-held knowledge of the risks associated with climate change.
ExxonMobil has denied the claims, and said in a statement it would fight the lawsuit in court. A verdict is expected in 2018.