A former child soldier in the Lord's Resistance Army who became a senior commander in the notorious Ugandan militia faced the first day of a historic trial at the International Criminal Court in The Hague on Tuesday.
It marked the first time that a former child soldier faced prosecution at the ICC.
Prosecutors accuse Dominic Ongwen of being a "ferocious" LRA leader whose victims were often very young children.
Chief prosecutor Fatou Bensouda warned of "extremely disturbing images" before playing videos of the aftermath of an LRA attack on Lukodi refugee camp. It showed disemboweled children and the charred bodies of babies in shallow graves.
"Dominic Ongwen became one of the most senior commanders in the LRA ... following rapid promotion for his loyal fighting and ferocity," Bensouda said.
"He was one of the most brutal commanders," the prosecutor said, calling Ongwen "a murderer and a rapist."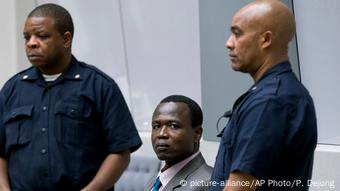 Ongwen said he himself was a victim of Joseph Kony's group
He was "enthusiastic" in adopting "the LRA's violent methods" and eager to show that "he could be more active and more brutal" than others.
He faces 70 charges for war crimes and crimes against humanity, including murder, rape, torture, sexual slavery and use of child soldiers between 2002 and 2004 while he was a commander of therebel group led by Joseph Kony in northern Uganda.
The charges focused on attacks on four refugee camps, in which the LRA kidnapped children as young as 6 to fight within its ranks.
"In the name of God, I deny all these charges in respect to the war in northern Uganda," Ongwen, 41, told the court.
Ongwen said he was a victim who had been kidnapped at age 14 and forced to fight for the LRA.
"It was the LRA who abducted people. It was the LRA who killed them," he insisted.
"I am one of those people against whom the LRA committed the atrocities," he said.
But ICC prosecutors say Ongwen was unlike the 9,000 people who escaped the LRA. They accused him of choosing to stay to help orchestrate the abduction and enslavement "of children under the age of 15 to participate actively in hostilities".
Bensouda said one witness described children being given military training, but "they were so small that the muzzles of their AK-47 rifles dragged on the ground."
aw/mkg (AFP, dpa)