In the hours leading up to Germany's showdown with Canada, Marco Sturm insisted that the national team could not be satisfied with just having made it to the quarterfinals for the second year in succession since he took over as head coach and general manager in the summer of 2015.
"In the past we were always happy when we made it to the quarterfinals. We have to stop this. We need to be hungry for more," Sturm told reporters. "We are not at the end of our journey," he added.
Unfortunately for Sturm and his men, though, Canada spelled the end of Germany's journey at this world championship, cohosted by Cologne and Paris. However, it's clear that Sturm and his coaching staff had been looking beyond this tournament the whole time.
Despite having led Germany out of the wilderness that followed the 2010 world championship, the last held on home ice, Sturm knows that a lot of work remains to be done, not just on the national team, but on German ice hockey in general. In the short term, he is happy with what his team has achieved.
"At the end of the day, it was a good world championship for us. We got better from game to game, which is precisely what we aimed to do," he told reporters Thursday night. "The last two games were our best and, as an underdog, we reached the quarterfinals again. So I see this home world championship as very, very positive."
Improvement needed at all levels
Taking a broader view though, Sturm criticized at least indirectly the current level of play in Germany's top league, the Deutsche Eishockey Liga, from which the national team draws the bulk of its talent, saying too often that players were still making wrong decisions on the ice.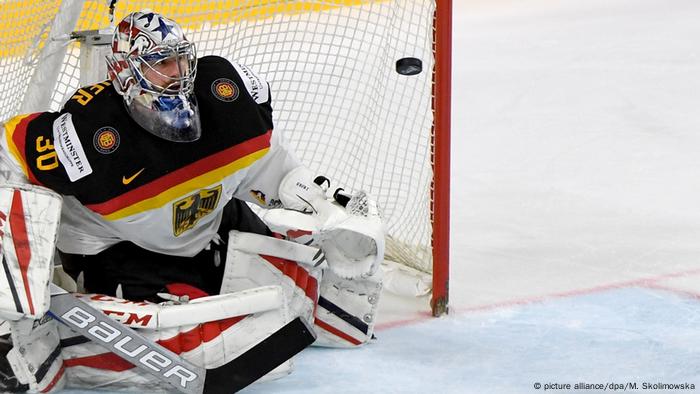 Philipp Grubauer made 48 saves to keep Germany in the game against Canada
"Unfortunately, it happens all too often that a player takes a different route than is called for in a given situation. In part, this has to do with our league," he said. "You can see the difference with teams like Canada and Russia. Their players play in the best leagues in the world and they have to do this on a daily basis. Unfortunately, this is not the case with us. This is the main difference."
Previously, Sturm has spoken about the fact that Germany still has a lot to do to improve its youth hockey program, and this he also touched on, on Thursday night.
"We just have to keep working at it, especially at the youth level, at the clubs, but also in the DEL. We all just have to do a better job," he said, without getting into specifics.
Contract runs out in less than a year
So from his point of view, Germany, on different levels, are very much a work in progress, and there is no doubt that most of the players and indeed the German hockey association (DEB) hope that Sturm will be the guy to direct that focus for some time to come. How long he will be there, though, is not clear. His contract runs until the summer of 2018 and DEB President Franz Reindl has said that the association certainly wants to renew it, but as for Sturm, he is non-committal.
"I am open to it. I really enjoy working with the lads, the 38-year-old former NHL star said. But he also said he hadn't really thought about it yet. "That's still too far off in the future," he said.