Flooding continued on rivers in Bavaria and other parts of Germany on Saturday, but the threat subsided for many living along the Rhine. Overnight, rains diminished and the Rhine and other rivers did not rise to the flood levels initially feared. But flooding in the city of Naabtal caused one woman to drown. Officials reported another man missing after floods washed his car away.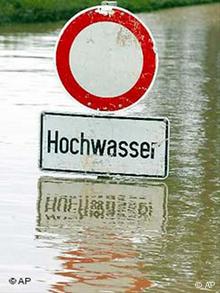 Flood warning sign
In Cologne, suburbs along the Rhine River have already flooded, but barriers have so far kept the old city center dry. And though the Rhine is still rising, officials no longer expect it to hit the critical 10 meter mark (32.8 feet). Officials now say the river will reach 9.99 meters in the city, just shy of the flood level. During record flooding in 1995, the Rhine reached 10.6 meters and caused millions in damage.
Upstream in Bonn, waters almost reached the critical mark of 9.5 meters. All night, emergency workers and residents worked to set up elevated walkways. In the meantime, flood warnings have been lifted for the city.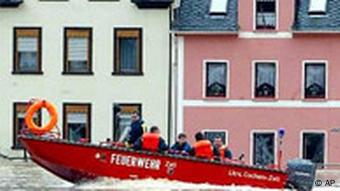 Flooding on the Moselle River
On the Moselle River in western Germany, water levels also sank dramatically. On Friday, buildings and homes in a handful of towns along the Moselle were damaged by flooding. But the situation was less dramatic Saturday. In Trier, for example, it has already dropped a full meter from its peak. People have now begun to clear away the mud from the streets and cellars.
Rivers also receded in the Bavarian towns of Coburg and Bad Kissingen, which were also heavily affected. Life in Coburg began its return to normal on Saturday. "The levels are sinking and we're planning to reopen many streets soon," a police spokesman told Deutsche Welle.
Warnings still in place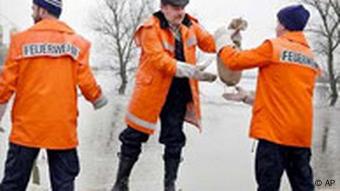 Feuerwehrleute stapeln Sandsaecke entlang des Dammes am Fluss Unstrut in der Ortschaft Leubingen am Samstag, 4. Januar 2003. Hunderte Einwohner des Ortes wurden bereits evakuiert. Starke Regenfaelle in den vergangenen Tagen hatte die Hochwassersituation in Thueringen verschaerft. (AP Photo/Jens Meyer)
As late as Saturday afternoon, however, flood warnings were still in place in Wertheim, a city in the state of Baden Wurttemburg. And the rising Unstrut River in the state of Thuringia threatened to bust levees and prompted emergency officials to evacuate the 1,000 residents of the town of Leubingen (photo).
Parts of Bavaria are still experiencing rising waters. The Naab River continues to flood homes, and the situation is especially critical in the town of Kallmünz near Regensburg. The city's historic center is flooded and many residents are trapped in their homes. The Main River also continued to spill over its banks, flooding many basements.
Waters are also still rising on the Elbe River in eastern Germany, but low temperatures early Saturday morning helped ease the danger of flooding in the states of Thuringia, Saxony and Saxony-Anhalt. However, officials in Saxony-Anhalt still plan to open flood gates to a canal near Magdeburg in order to decrease the chance of flooding in the populous city.
Last summer, floods in eastern Germany and Bavaria caused billions of euros in damage, and many feared a repeat scenario this weekend. But with receding water levels, residents along Germany's great rivers may get a break this time.
Still, nobody is taking any chances. More than 1,400 workers from THW, Germany's federal disaster relief agency, as well as 43,000 firefighters have been dispatched to flooded areas and those threatened with flooding to aid in disaster prevention and relief efforts.