In his most extensive public appearance in years, Cuban revolutionary Fidel Castro addressed the Communist Party on Tuesday about the end of "a historic generation."
"I'll be 90 years old soon," Castro said on the final day of the party congress. "Maybe this is the last time that I will speak in this hall."
"Soon I'll be like all the others," he continued. "The time will come for all of us, but the ideas of the Cuban Communists will remain as proof on this planet that if they are worked at with fervor and dignity, they can produce the material and cultural goods that human beings need, and we need to fight without truce to obtain them."
Official state-run television carried images of 89-year-old Fidel Castro in a blue Adidas tracksuit, speaking to the crowd in a strong, but occasionally trembling voice.
He also spoke about climate change and the dangers of nuclear weapons wiping out the human race, like "the dinosaurs."
The Communist Party convention sets the nation's economic and political path for the next five years, probably making this year's congress the last for Cuba's remaining original 1959 revolutionaries.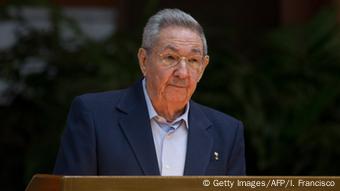 Raul Castro could still hold a powerful party position when he steps down from the presidency in 2018
Raul remains in top post
Fidel's 84-year-old brother and current Cuban president, Raul Castro, will remain in power as the party's first secretary, government news sites reported.
The decision means Raul Castro could hold a Communist Party position at least as powerful as the presidency even after stepping down from his presidential post in 2018.
Jose Ramon Machado Ventura, known as a hardline enforcer of Communist orthodoxy, will also continue to hold the post of second secretary. He fought alongside the Castro brothers during the overthrow of Cuba's US-backed dictatorship in 1959.
Earlier during the four-day congress, the younger Castro proposed term limits and an age limit of 70 for leaders in top positions. However, he said such changes would take time.
"(We will) introduce the necessary changes, without hurry and with no improvisation, which would only lead to failure," he said.
Although the top posts remained unchanged, the party brought five younger faces into the political bureau, including three women and two Afro-Cubans.
In contrast to the last party convention in 2011, this one was held behind closed doors, with only state-controlled media allowed to cover it. The closing speeches and results of the country's most important political event were not broadcast live on state television, which instead broadcast a soap-opera.
Raul Castro has ordered market reforms to the economy and overseen a thawing of relations with the United States - leading Barack Obama to be the first US president to visit Cuba in 88 years.
rs/jar (AP, AFP, Reuters)