Britain's "Spectator" and "BuzzFeed" both quoted a Facebook post that Farage was sighted in a queue at the German embassy on Monday, standing alongside other people who were hoping to secure dual-citizenship before Britain formally applies to leave the EU.
Farage was a leading "Leave" advocate who hotly opposed inward migration prior to Britain's narrow referendum decision on 23 June to quit the European Union.
The former UK Independence Party (UKIP) leader, who quit abruptly as its chairman after the referendum, has been married since 1999 to a German, Kirsten Mehr.
According to the German biographical encyclopedia "Munzinger," she has worked as assistant in his Brussels bureau. Farage entered the European Parliament in 1999 as a vocal euro-skeptic.
"BuzzFeed" said Tuesday its phone call to Farage about the embassy sighting drew a taciturn response.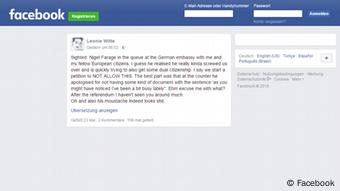 Asked whether he was queuing to apply for German citizenship, Farage had replied "none of your business" and then "hung up," "BuzzFeed" said.
Opponent of migration within EU
During UKIP's campaign leading up to Britain's narrow vote in a referendum on 23 June to leave the EU, the 52-year-old Farage railed against what he termed as "mass immigration" inside the 28-nation bloc, claiming that leaving the EU would restore British control.
On 26 May, he tweeted: "Mass immigration still hopelessly out of control and set to get worse if we remain in EU."
Other "Leave" campaigners condemned one of his posters that showed immigrants trudging through Europe with a headline in red: "Breaking Point" as going too far.
Political ambition 'achieved'
Farage resigned as UKIP chairman two weeks after the referendum, saying "my political ambition has been achieved."
UKIP is now embroiled in infighting to find a new leader among six candidates.
And, Britain continues to face uncertainty on its financial markets.
British economy in trouble
The pound's sharp 14-percent drop against the dollar since the referendum has hiked the cost of imported goods. Surveys show sharp falls in business activity and hirings.
On Monday, a spokesman for British Prime Minister Theresa May, who had campaigned to remain in the EU, said she would not trigger exit proceedings before the end of 2016.
Once Britain files a departure application under Article 50 of the EU's consolidated treaty the clock would begin ticking toward a two-year deadline.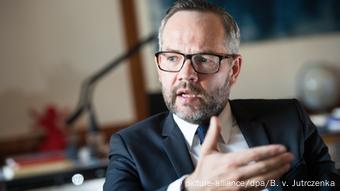 'No cherry picking,' says Germany's Roth
'No cherry picking,' says Germany
On Tuesday in Berlin, German European Affairs Minister Michael Roth warned Britain not to expect "cherry picking" in negotiations.
Roth said he was "quite sure" that strong economic pressure would prompt Britain to proceed with those talks.
"There can't be any British members in the next European Parliament," Roth added.
Only one seat in UK parliament
In last year's British general election, UKIP polled third overall - behind the Conservatives and Labour - by winning 13 percent of the popular vote.
UKIP secured, however, just one parliamentary seat because of Britain's first-past-the-post constituency-based system.
ipj/rc (AFP, Munzinger)