James Comey was nominated in 2013 by former US President Barack Obama to head the FBI, the US principal federal law enforcement agency, for a ten year term.
But in May 2017, newly elected President Trump fired Comey in a move that was criticized as possible obstruction of justice and helped launch the probe into potential collusion between Trump's campaign and Russia.
In an exclusive interview, former FBI director James Comey told DW's Conflict Zone that despite his career in law enforcement, he doesn't draw "the darkest inference" about US President Donald Trump's vehement denials of collusion with Moscow.
"The fact that someone acts this way doesn't necessarily mean that they're guilty of something," Comey told DW. "It could just be this president's lifelong habit of attacking, attacking, attacking when he feels threatened. But I don't know what it is, honestly."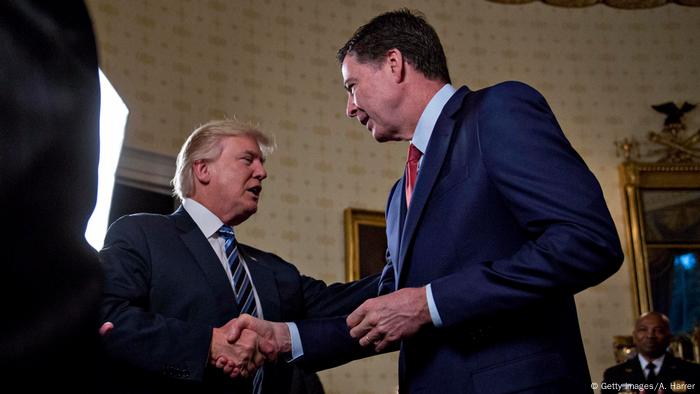 US President Donald Trump fired James Comey as FBI director, saying he "was not able to effectively lead the bureau"
When asked whether he felt like he might get "tainted" by remaining in the Trump administration, Comey said that although there was potential for that, "I thought that was my duty."
"The nature of the president actually increased my commitment to stay in my role and serve and protect the FBI and the American people," Comey said.
"I knew it was going to be hard. I knew there were going to be all kinds of difficult situations, but I thought what a coward I would be to walk away from that when I'm supposed to be leading an organization that's, by spirit and culture, independent."
Did Comey cost Hillary Clinton the election?
Even before he was fired by Trump, Comey rose to notoriety in 2016 when during the presidential election he famously announced that the FBI had found no evidence of criminal wrong-doing during Hillary Clinton's use of a private email server during her stint as US Secretary of State.
Comey called Clinton's mishandling of classified information "careless" but said there was not enough evidence to recommend prosecution.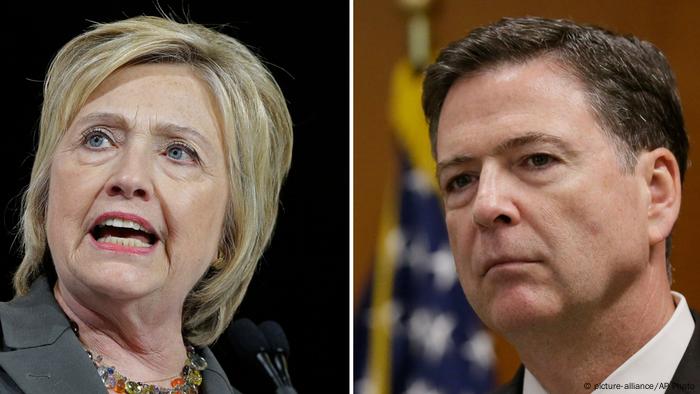 Hillary Clinton has blamed Comey for losing the election
Then just 11 days before the election, Comey sent lawmakers a letter, informing them that the FBI had found new emails deemed "pertinent to the investigation."
Comey told DW that everyone agreed that FBI had to re-open the investigation; the controversial decision was to inform the public about it.
"What do you do 11 days before the election? Do you speak about it or do you conceal it? And my judgment was the institution would suffer horrific damage if we concealed that, it would suffer just bad damage if we spoke about it. (…) My judgment was we had to speak because hiding the fact that what we had said in the summer under oath was no longer true was an unacceptable outcome," he said.
"What I ask people is so what would you do if you were in my shoes and why?"
Clinton has blamed Comey for losing the election and mocked Comey for his own use of private email as FBI director.

Before Comey's announcement, she was ahead in the national polls by around 6 percent. A week after the announcement, her lead had halved. Late deciding voters went overwhelmingly towards Trump. So is there a case to be made that Comey's action changed the course of the election?
"It makes me slightly sick to my stomach, even now, to contemplate the notion that we had an impact. I hope not," Comey said in the interview.
Double standards?
Two days after Comey's announcement to re-open the investigation into Hillary Clinton, Senator Harry Reid wrote Comey to complain of a disturbing double standard for the treatment of sensitive information, saying that as soon as Comey came into possession of the slightest innuendo related to Mrs. Clinton, he rushed to publicize it in the most negative light possible while continuing to resist these calls to inform the public about critical information relating to Donald Trump.
In the interview, Comey denied that he was inconsistent.
"Donald Trump was not the subject of any investigation during that election. (…) We knew the Russians were messing with our election. The separate question was: were any Americans helping them? And we didn't know that at the time."
Comey also denied that he should have informed the public about suspicions of wrongdoing by Americans connected to Trump's campaign.
"There's no serious argument we should be talking about a brand new counterintelligence case that doesn't involve the candidate as a subject."
Email hypocrisy?
Comey himself was criticized for using a private email account in violation of official Justice Department protocol during his time as FBI director. Asked whether it's not hypocritical to then spend a year and a half investigating Hillary Clinton's handling for a similar conduct, Comey said:
"It's not. But it does reflect the fact that folks don't realize what the Clinton investigation was about. It wasn't about her use of a non-governmental email system. It was about her handling of classified information. And that's a very important investigation but totally different from whether you're using a Gmail account, which I was using, to email drafts of speeches to myself. There was never any accusation that I used any system to communicate classified information."

According to a Washington Post report, an FBI review concluded that some of the information in two of Comey's memos were, in fact, classified. The information was marked confidential, the lowest category of classified. But it was classified.
In the interview, Comey said he expects to be investigated.
"In fact, I've cooperated with them and talked to them and I eagerly await their report," he said. "I want the review done and want the report out is so that it ends the silliness about me mishandling classified information. (…) There's no doubt that I deviated, as they say, from norms. But there was nothing normal about the investigation of one of the two candidates for president of the United States during the election."
Comey also said he's not worried about Congress or the FBI coming after himfor his handling of the Hillary Clinton email investigation.