The 78-year-old Eberhard Reichert was one of nine people charged in 2011 by the US Justice Department and the Securities and Exchange Commission for their roles in a bribery scheme in Argentina.
"Eberhard Reichert tried to sidestep laws designed to root corruption out of the government contracting process," Manhattan US Attorney Geoffrey Berman said in a statement. "Today's plea should be a warning to others that our office is committed to bringing corrupt criminals to justice, no matter how long they run from the law."
Reichert, who worked for Seimens for 37 years, until 2001, entered his plea to one count of conspiracy in the New York court. He admitted that while working as a manager at Siemens Business Services in Argentina between 1996 and 2001, he had approved fake invoices and contracts intended to disguise bribery payments to Argentine officials.
"It was the greatest mistake of my life to have participated in this conduct," he said. "I regret this conduct deeply and I apologize for it." He is yet to be sentenced.
The former executive was arrested in Croatia in September and agreed to be extradited to the US in December. Germany does not usually extradite its citizens.
Read more: Panama Papers: German authorities carry out first raids in connection with tax leaks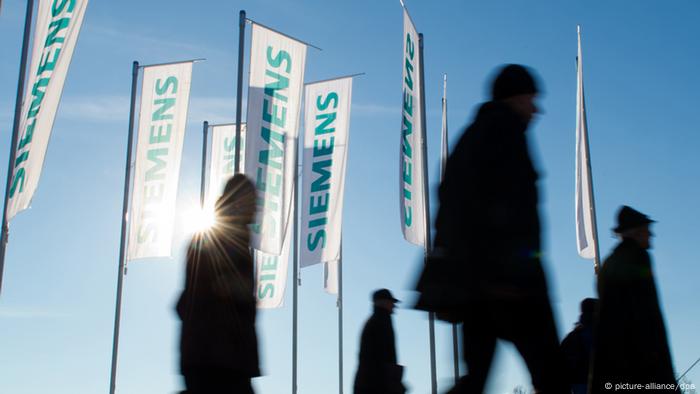 Shareholders walking into the Munich headquarters for a meeting in 2013
The Argentina scheme
According to prosecutors, Siemens had committed to paying nearly $100 million (€81 million) in bribes to Argentine government officials and members of the political opposition after it was awarded a billion-dollar contract to develop identity cards in 1998. Former-President Carlos Menem has reportedly denied wrongdoing.
In 2008, Siemens agreed to pay more than $1.3 billion to resolve wide-ranging bribery investigations in the United States and Germany, which included the Argentine contract. As part of that deal, Siemens and its Argentine subsidiary entered guilty pleas in the US to violations of the Foreign Corrupt Practices Act, which bars companies from bribing foreign officials.
Read more: Siemens bribery case spreads to Brazilian politics
German prosecutors had opened the Siemens case in 2005 after Germany joined the international convention banning foreign bribery in 1999. American authorities became involved in 2006 because the company's shares are traded on the New York Stock Exchange.
The former chief financial officer of Siemens Argentina, Andres Truppel, also made a guilty plea under the same indictment in 2015. He has yet to be sentenced.
jm/sms (Reuters, AFP)
Each evening at 1830 UTC, DW's editors send out a selection of the day's hard news and quality feature journalism. You can sign up to receive it directly here.