Belgian officials warned against all travel to the country's flood-ravaged regions as one of the country's leading newspapers reported that the death toll had risen to 23 nationwide.
Le Soir, a national centrist daily, cited government sources as saying more fatalities had been confirmed, while Reuters news agency stated that 20 people were still missing on Friday.
"What should have been beautiful summer days suddenly turned into dark and extremely sad days for our fellow citizens," Belgian Prime Minister Alexander De Croo said. "These are exceptional circumstances that our country has not seen before."
The Belgian government has set next Tuesday as a national day of mourning, toning down the country's national day festivities on Wednesday.
France, Austria and Italy have contributed boats, helicopters and rescuers to aid the search for survivors in Belgium as part of the European Union's civil protection mechanism.
Top Walloon official warns of possible rising death toll
Wallonia, Belgium's largely French-speaking region, is among one of the worst-affected areas where more than 21,000 people are currently without electricity.
"Avoid traveling to the affected provinces," the Belgian crisis center, which handles major emergencies, said in a statement. 
"Many roads are flooded or dangerous. You could endanger yourself and/or hinder the work of the emergency services," the statement said.
The regions concerned are mainly in the south and east of Belgium.
Elio di Rupo, who leads Wallonia's regional government, told the RTBF broadcaster that the death toll could rise further.
"Yesterday [Thursday] evening, hundreds of people were still trapped in their homes," he said in an interview.
Paramedics, police and the military have been dispatched to those areas to help with rescue and evacuation operations.
Cities inundated, trains cut off, rivers overflow
Federal police said dozens of road and rail connections across the entire region remain closed.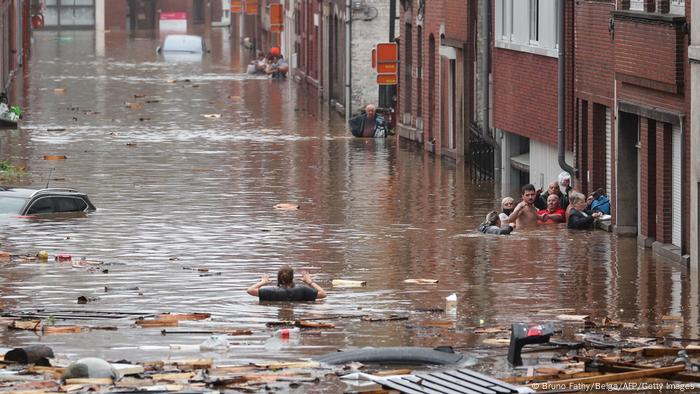 Liege, one of the most populous cities in Belgium, has been ravaged by floods
Two towns east of Liege, Verviers and Pepinster were reported to be flooded, with houses collapsing and water rushing through town streets.
Authorities in the Belgian town of Maaseik, which borders the Netherlands, said the Meuse river had risen over a flood protection wall and sandbanks placed on top of it.
The high-speed Thalys train link between Belgium and Germany, which has borne the brunt of the floods, has been suspended until further notice.
"The waters are rising more and more. It's scary," said Thierry Bourgeois, a 52-year-old resident of Liege.
Local authorities had called on Thursday afternoon for those living close to the banks of the nearby Meuse River to leave their homes.
What about the floods in Netherlands?
On Thursday, the Dutch Prime Minister Mark Rutte formally declared the province a national disaster zone as the Meuse and Rur rivers rose to record levels after heavy rainfall.
Dutch troops helped thousands of people to evacuate their homes in the southern Dutch province of Limburg. Aided by firefighters, they fought to reinforce dykes and place sandbags onto flood defenses.
Authorities evacuated 10,000 people from the city of Venlo, which borders North Rhine Westphalia, including 200 patients who were at a hospital.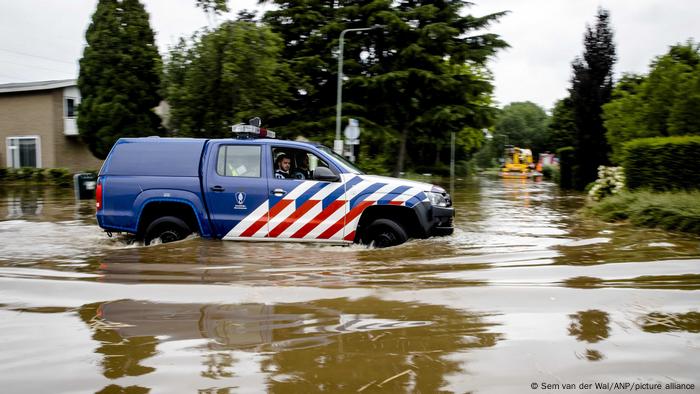 Rescue vehicles fought through flooding in Meerssen to get help to residents.
The smaller town of Meerssen was also evacuated after emergency services revealed there was "a large hole in the dyke," although that was later repaired.
Rising water levels flooded the town centre of Valkenburg, by the Belgian and German border, forcing the evacuation of various nursing homes and the destruction of a bridge.
How have Luxembourg and Switzerland been affected?
Several rivers and lakes burst their banks in Switzerland, causing steets to become flooded and destroying small bridges.
Public broadcaster SRE reported that the northern villages of Schleitheim und Beggingen being worst hit on Thursday night.
Intense rain in Switzerland led the country's weather service to warn that flooding would worsen in the coming days.
Forecasters predicted that there was a high risk of flooding on Lake Biel, Lake Thun and Lake Lucerne, adding that landslides remained a possibility.
Luxembourg airport was temporarily without fuel after a valve failed on its kerosene pipeline at the German side of the border. "The supply was restored in the late morning of July 16, 2021," the Luxembourg Ministry of Mobility said.
jc, jf/msh (AFP, Reuters, dpa)