In an interview published in the Saturday edition of the British newspaper, Daily Telegraph, former European Commission president, Jacques Delors, said that the euro currency is inherently flawed.
Delors also accused current European leaders of amplifying the crisis by doing "too little, too late."
The former EU leader, who was Commission chief from 1985 to 1995, blamed the current crisis on "a fault in execution" by politicians during the currency's early years; in particular, their refusal to acknowledge the threat caused by imbalances in the economies of member states.
"Everyone must examine their consciences," the 86-year-old EU veteran told the Telegraph. "The finance ministers did not want to see anything disagreeable, which they would be forced to deal with," he said.
Merkel sees no quick fix
German Chancellor Angela Merkel, on Friday, gave a speech to the German parliament warning that the future of the euro was "indivisibly linked to the unification of Europe."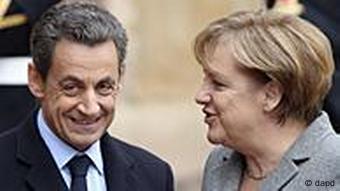 There is no solution to the euro crisis without Germany and France
But Delors, a key player in creating the framework for the euro's launch in 1999, singled out Germany as the biggest stumbling block in finding a swift solution to the crisis. Merkel herself has insisted repeatedly that there is no "quick fix" to the crisis.
Germany has come under fire for its refusal to allow the European Central Bank to print new money to mop up government bonds from at-risk countries, fearing it would fuel inflation.
"A combination of the stubbornness of the Germanic idea of monetary control, and the absence of a clear vision from all the other countries" was responsible for the ongoing situation, Delors said.
Criticism of Merkel's position has also been mounting from within her own Christian Democrat party ranks.
Günther Oettinger, a former conservative state premier in Germany and the current EU energy commissioner, told the German daily, Die Welt, on Saturday that "one cannot categorically rule out resorting to eurobonds. They could become vital."
Markets desperate for EU debt plan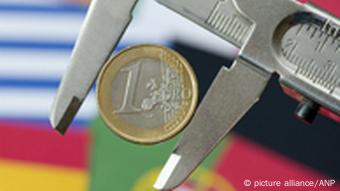 The euro is in the clutches of nervous investors waiting for a solution
Berlin has adopted a hard line against issuing eurobonds, arguing that Germany would pick up the tab if eurozone debt were pooled.
German Finance Minister Wolfgang Schäuble, who is staunchly opposed to eurobonds, said on Saturday that he would present a plan at a crunch summit of EU leaders next week outlining a proposal for national redemption funds for excess sovereign debt.
The plan would effectively siphon off a chunk of debt from individual countries into a special national fund, which could be paid off over a period of 20 years, while committing to reforms to keep debt levels on target.
Markets are desperate for a sign from EU leaders next week that they can find a solution to the eurozone debt crisis, which is beginning to affect the entire global economy.
It is not clear whether Merkel will push the idea at the summit because her main focus has been on securing a deal to change EU treaties to force states into more rigorous budget discipline.
Author: Gregg Benzow (AFP, Reuters, dpa)
Editor: Andreas Illmer