There are bound to be a lot of people with something to say when it comes to taking in and handing out about 1 trillion euros ($1.35 trillion).
The initial draft of the Multiannual Financial Framework for 2014 to 2020 - the document that regulates the EU's budget - is proposed by the European Commission. The draft lists expenditures including agriculture, regional support and employment.
The Commission's current proposal, however, also contains some projects like the Connecting Europe Facility (CEF). The project is a 40 billion euro fund to finance energy and transportation networks as well as broadband Internet in rural areas of the EU. The program will help competitiveness and create jobs and growth for Europe, according to Ryan Heath, spokesperson for Neelie Kroes, the EU commissioner responsible for the digital agenda.
Growth and competiveness for Europe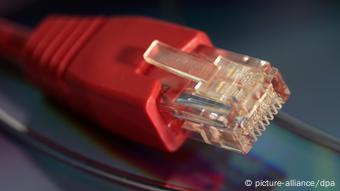 High-speed Internet connections can increase competiveness
"In China, 36 million households got a connection to fast broadband last year," Heath said. "That's more than all the new connections that we developed in all of Europe."
The CEF permits national governments to connect EU citizens to the Internet on inexpensive financial terms.
"We are talking about loans that are backed by the European Investment Bank, so any money the governments put up to this facility they will get back with interest in the long term," Heath added. "It's not a gift or a blank check, it's actually something that will come back to taxpayers as well as delivering an essential service to people who don't have it now."
Energy Commissioner Günther Oettinger, who would also like to finance projects with money from the CEF, is currently working on how to spend the funds - despite the budget not yet being approved. Waiting until the money is actually there before choosing which projects to fund would mean putting everything on hold until 2015. By the end of 2013 the Energy Commission plans to have a list of projects it expects to be approved, so that it can co-sponsor them with the CEF from 2014 on.
Some 9.1 billion euros were allotted to the energy sector in the EU Commission's budget proposal, but exactly how much it receives - along with all the other sections of the EU - will depend on negotiations at the EU summit.
The European Council, the body made up of heads of state and government from the EU's 27 member countries, has to discuss the Commission's budget and either change or approve it. Approval from the European Parliament is also required. An initial attempt to pass the financial framework failed in 2012 when the Council could not find a compromise. So-called net payers, the countries that pay more into the EU's coffers than they receive from them, found the Commission's proposal too expensive.
Who pays what?
The EU's budget is financed from several pots, including taxes raised on behalf of the EU, such as customs on goods brought into the bloc, and a portion of each country's value-added tax. But most of what the EU spends is provided by contributions from member states and based on a percentage of gross national income.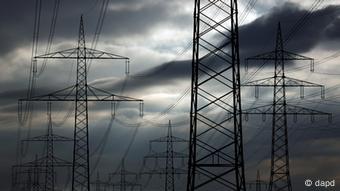 Energy projects require long-term planning and financing
While often referred to as the EU's seven-year budget, the Multiannual Financial Framework is not exactly what the bloc spends each year. Instead, it determines limits on how much sections of the EU are annually allowed to pay out. The framework was created to provide secure funding for long-term projects, such as those dealing with energy and transportation.
Scientists also need to know how much money they can expect to receive for their research, Heath said, adding that's how they know "they can take the risks that they need to take to do the best research so that they can have confidence that they are going to be able to complete their work."
Research pays off in future
He said the EU Framework Program for Research and Innovation Horizon 2020 costs more than 80 billion euros and is worth every cent. It's only through programs like these, Heath said, that researchers in Europe can keep up with their international competition.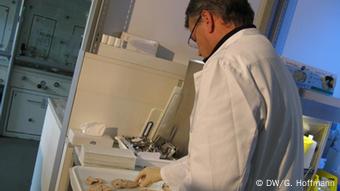 To do their best research, scientists need to know how much they can spend
Heath said two recent developments showed the importance of funding security for researchers.
"One is an amazing material called grapheme, which is the lightest and strongest material that man has ever known, and another one has to do with how we simulate the human brain in order to treat lots of diseases," he said. "That's the work that is put at risk if we do not go through with funding for these long term projects."
Heath added that it would be short-sighted to only look at such projects as expenditures. "The message I would say to countries like the UK and Germany is that you actually get more than you put in to the research budget," he said. "To put less money in simply means that you are going to get less money back and that does not seem very sensible to me."
What to cut?
Budget negotiations, however, are not just about who pays in, but where the money goes. Agriculture and rural development are traditionally the largest items in the EU's budget, costing more than 380 billion. France is expected to defend the agriculture budget, while southern European nations will negotiate to keep the regional support funds intact.
Despite the tough negotiations expected, observers have said they expect the framework for the EU's budgets to be set by the end of the EU summit which starts on Thursday.
"There will be a lot of struggling, there is no doubt, but in the end there will also be an agreement," predicted Janis Emmanouilidis of the Brussels-based think tank European Policy Center.