German agencies have observed an increase in the amount of asylum seekers from Macedonia and Serbia over the last few months. The interior ministry says the number increased to 2,450 in September - double the previous month's figure - and that it would continue to rise in October.
Most of the asylum seekers, according to the government report, are Roma people. German Interior Minister Hans-Peter Friedrich has referred to them as "unwanted guests," who are "breaching Germany's asylum policies." Friedrich has announced intentions to add police officers to the federal agency for migration and to fast-track the asylum applications that have been filed. Most, Friedrich said, don't demonstrate the need for political asylum, and represent cases in which people are fleeing poverty and economic ruin in their home countries.
Brussels: Roma 'not asylum seekers'
Gaining entrance into Germany, France or any other western European country is relatively straightforward for Roma people from Macedonia and Serbia. They haven't needed a visa to travel as tourists since the end of 2009. If they file for asylum while here, they normally are interned at camps and deported back to the country they came from after around two or three months.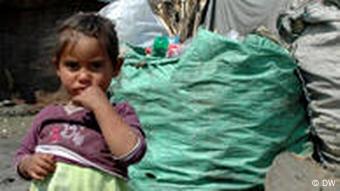 The EU admits that conditions are brutal, but says they don't necessitate asylum
European Commission spokesman Michele Cercone said this week in Brussels that Roma people from Serbia and Macedonia couldn't be called "real asylum seekers."
"We're talking about people who are in a visa-free regime and come to the EU without a visa from the Balkans," he stated. "The problem is that many of them are lodging asylum requests that are clearly unfounded. And these people are now creating a backlog - and a serious problem - for the asylum system in the EU countries involved."
Integration strategy not yet implemented
The EU recognizes that Roma people are subject to abject conditions in their home countries. Economic ruin, however, is not grounds for asylum on its own, however. At the presentation of the EU's policy on Roma integration back in May, Justice Commissioner Vivian Reding mentioned dismal figures.
"Forty-five percent of the Roma people surveyed lived in households lacking an indoor kitchen, an indoor toilet, shower, bath or electricity. One in three Roma people is unemployed. Twenty percent do not have health insurance. Ninety percent are living below the poverty line. Now this is a wake-up call," Reding told journalists in Brussels.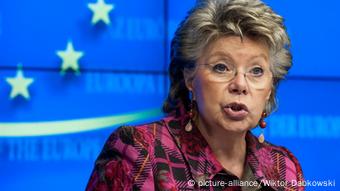 Reding mentioned alarming figures regarding Roma in May
In May, the EU's 27 states presented national action plans aimed at improving the lives of Roma people. Between 10 and 12 million Roma people live in the EU, making it the largest minority on the continent. Member states admit that Roma people suffer from discrimination and are offered limited access to education, work opportunities and healthcare. By 2020, the action plans are to have brought about real integration of the Roma people.
Interior ministers want to probe visa-free travel

In the short term, negotiations on Roma integration won't reduce the number of asylum application in western Europe. For this reason, the interior ministers of Germany, France, Austria, Belgium and Luxembourg have called on the European Commission to probe Serbia and Macedonia's right to visa-free travel. Commission spokesman Cercone confirmed that the ministers are looking to create a mechanism that would reinstate visas in "extraordinary circumstances."
The Serbian government this week said it would cover the costs for 10,000 asylum seekers around the whole of Europe, in a bid to prevent any such reinstatement.

"This would cost us less than if the visa were reinstated," said Serbian government head Ivaca Dacic, according to the news agency Beta.
Roma people wait to be evacuated from a Belgrade slum
The asylum agency of the German state North Rhine-Westphalia complained that the asylum applications from Roma people living outside the EU - such as in Serbia and Macedonia - were being more or less thrown out without being properly considered. Just because these states were looking to become part of the EU, this doesn't mean that social discrimination and unfair treatment in labor markets don't exist here, said Birgit Naujoks, spokeswoman for the agency.
"Serbia and Macedonia, on account of their warming to the EU, are on Germany's 'safe list.' This means that Germany essentially assumes that there is no persecution in these countries," Naujoks added. "I venture to say that if these countries weren't on their way towards EU accession, the probe into their status would be different."
Young Roma unused potential
EU Labor Commissioner Lazlo Andor has warned that the bloc's Roma policy is still only on paper, and that the proposals that have been made must now be implemented.

"Member state strategies are only a first step in a long process," he said. "Together we must reduce the gap between the Roma and the non-Roma population before it widens further."
In countries like Romania, where young Roma constitute around a fifth of the working population, Andor says this is a wellspring of creativity that is being neglected and going to waste.