At least 50 people were killed and around 200 injured Saturday in an apparent suicide bomb attack on the five-star Marriot hotel in Pakistan's capital Islamabad, witnesses and officials said.
A suicide bomber detonated a truck packed with explosives at the heavily-guarded hotel which is located near government buildings and diplomatic in Islamabad's high security zone.
There were fears that foreign diplomats and embassy staff, which frequented the heavily-guarded hotel, were among those injured or killed.
Foreign nationals among those injured and killed
Citing hospital and security officials, news agency AFP reported that a US national was among those killed in the attack.
The German foreign ministry confirmed that at least six Germans had been slightly injured in the attack.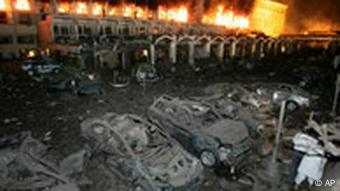 The attack completely gutted cars parked at the hotel
There was no indication that Germans were among the more than 50 people killed in the attack earlier in the day, a spokeswoman said, but added that this was based on only preliminary information.
"We have no complete picture yet and continue to be in close contact with the Pakistani authorities," she said.
The British Foreign Office said four British citizens were injured in the bombing while Denmark confirmed that a Danish diplomat was among the injured.
A statement from the EU Presidency, currently held by France, said the EU will "more than ever stand side by side" with Pakistan in its struggle against terrorism.
The US too expressed support for the country's government.
"The United States strongly condemns the terrorist attack that took place in Islamabad, Pakistan, today," national security council spokesman Gordon Johndroe said in a statement. "This is a reminder of the threat we all face. The United States will stand with Pakistan's democratically elected government as they confront this challenge," he said.
Saturday's attack was the worst in the capital, and came six months after a civilian government took power, and a month after it forced former army chief and staunch US ally Pervez Musharraf to step down as president.
British Foreign Secretary David Miliband said Saturday the bombing of the hotel was a "disgraceful" attack which reinforces Britain's resolve to fight violent extremism with Pakistan.
"This latest bombing attack in Islamabad is yet another shocking and disgraceful attack without justification," Miliband said.
Official says death toll could rise
Four of the five stories of the hotel caught fire after the blast, which was so huge that it was heard kilometers away. People were trapped in the gutted building and fire brigade vehicles were trying to extinguish the blaze.
"I saw a vehicle approaching the main entrance of the hotel and then it blew up," an injured witness, Mukhtar Ahmad, told German news agency dpa before he was taken to hospital by ambulance.
A security official, who spoke on condition of anonymity, said the deadly vehicle was a truck loaded with around half a ton of explosives.
Islamabad police chief Asghar Raza Gardezi confirmed that 50 people were killed and more than 200 injured. He said the death toll could rise drastically as many of the injured are in critical condition.
The luxury hotel is located in a high security zone, about 500 meters from the residencies of Pakistan's prime minister and president.
Attack coincides with calls to stamp out terrorism
The blast created panic at the prime minister's house where Premier Yousaf Raza Gilani was hosting a dinner to break the Ramadan fast.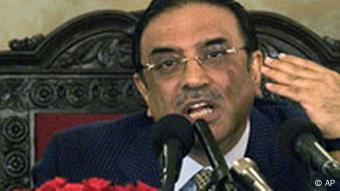 The attack came hours after Zardari vowed to stamp out terrorism during a speech in parliament
President Asif Ali Zardari and military chief Ishfaq Parvez Kayani were also among the guests, Pakistan's DawnNews reported.
No one has claimed responsibility for the blast, but Taliban militants with their bases in country's tribal areas along Afghan border have carried out a series of suicide bombings across Pakistan over the last 18 months.
The blast came on the same day when the new President Asif Ali Zardari, widower of assassinated former Pakistani leader Benazir Bhutto, vowed before parliament to "root out terrorism and extremism."