The UN Security Council held informal talks on the ongoing conflict in Ethiopia's Tigray region, a sign of growing international concern.
Forces loyal to the region's ruling party have been battling Ethiopian government soldiers for three weeks. The fighting has sparked a refugee exodus, civilian deaths and fears of broader instability in the Horn of Africa.
Tuesday's meeting was held despite disagreement between European and African members over whether the closed-door discussion should take place. The meeting was briefly in doubt after African countries pulled out, but diplomats from France, Britain, Belgium, Germany and Estonia forced the talks to go ahead.
"South Africa asked for time so that the envoys can conduct their consultations and refer the matter to the African Union. A statement could complicate the situation," an African diplomat said after the session.
A European diplomat, also speaking on condition of anonymity, said the Europeans "expressed their concerns, condemned violence of an ethnic nature and demanded protection of civilians," during the session that lasted one hour 20 minutes. The meeting ended without members issuing a statement.
Concerns for civilians
Michelle Bachelet, UN high commissioner for human rights, said in a statement on Tuesday that all sides should give "clear and unambiguous orders to their forces to spare civilians, in line with international law."
Bachelet expressed "alarm at reports of a heavy build-up of tanks and artillery around Mekele, the capital city of Tigray province, following the Government's issuance of a 72-hour ultimatum."
"The highly aggressive rhetoric on both sides regarding the fight for Mekele is dangerously provocative and risks placing already vulnerable and frightened civilians in grave danger," she said.
Amnesty International Ethiopia researcher Fisseha Tekle echoed Bachelet's concern over the military build-up in Mekele, urging both sides in the conflict to follow international law. "We are really concerned that the deployment of artillery, mortars and aerial bombs might increase civilian casualties," he told DW, adding that the warring parties "need to avoid recreational areas and civilian facilities such as hospitals, schools and religious institutions."
Some 40,000 Ethiopian refugees have escaped to eastern Sudan the since crisis began on November 4, including more than 5,000 fleeing fighting in Tigray over the weekend, according to a spokesman for the UN refugee agency.
Tigrayans accused of massacre
Ethiopia's national rights watchdog said in findings published Tuesday that a local youth group had killed at least 600 people in southwest Tigray. The massacre in the town of Mai-Kadra, first reported by rights group Amnesty International, was perpetrated on November 9 by a group called "Samri," which targeted non-Tigrayan seasonal workers on sesame and sorghum farms in the area.
The attackers "killed hundreds of people, beating them with batons/sticks, stabbing them with knives, machetes and hatchets and strangling them with ropes. They also looted and destroyed properties," The Ethiopian Human Rights Commission (EHRC), a government-affiliated but independent body, said in its report.
It is the worst-known massacre of civilians during the ongoing internal conflict in Ethiopia, and "may amount to crimes against humanity and war crimes," the EHRC said.
What is the current situation on the ground?
Ethiopian Prime Minister Abiy Ahmed, last year's Nobel Peace Prize winner, ordered troops, tanks and warplanes into Tigray in response to an alleged attack on federal military camps by the Tigray People's Liberation Front (TPLF).
The army said it has encircled Mekele ahead of a threatened all-out assault.
The prime minister, who has resisted calls for mediation, has insisted the conflict has reached a decisive final stage.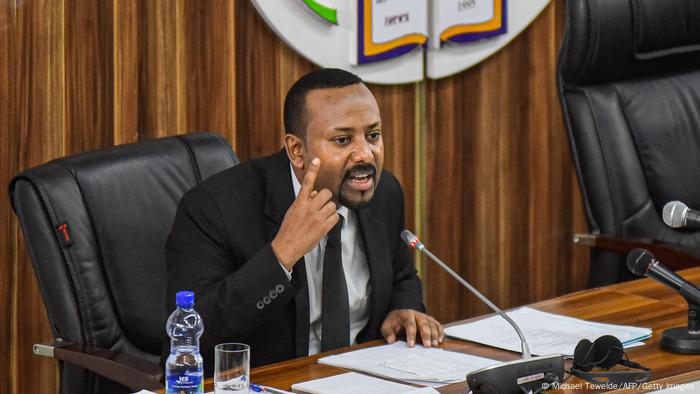 Prime Minister Abiy Ahmed has vowed to push on with the Tigray offensive
On Sunday, he gave the TPLF 72 hours to surrender — an ultimatum rejected by the dissident region's leader, who said his people are "ready to die" for their homeland.
While the TPLF and Ethiopia's federal government have quietly been at odds since the election of Abiy in 2018, tensions rose after Abiy postponed general elections scheduled for August due to the coronavirus pandemic.
The TPLF have accused Abiy of trying to extend his term in office.
jf,dr/rs (AFP, Reuters)