A high level Eritrean delegation landed in the Ethiopian capital on Tuesday. Ethiopia's newly-elected Prime Minister Ahmed Abiy received Eritrean Foreign Minister Osman Saleh and advisor to President Isaias Afwerki, Yemane Gebreab, at the airport.
There was a red carpet, rose garlands for the rare visitors, banners saying welcome in the languages of the two countries, music and smiles all round.
"The relationship between Ethiopia and Eritrea is about more than the border. When we make peace, it will benefit East Africa," Meles Alem, Ethiopia's foreign affairs spokesman said at the airport.
Little more has been said by either side since.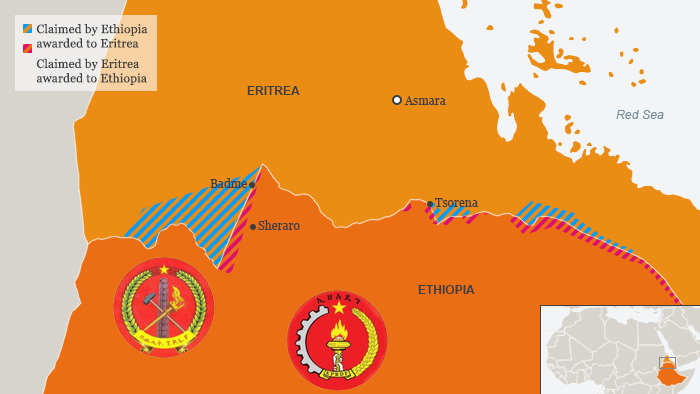 Eritrea-Ethiopia border conflict erupted in 1998.
Unexpected olive branch
Eritrea last week agreed to the visit after a surprise invitation from Abiy, who has been making overtures of peace to Ethiopia's one time enemy, a closed and authoritarian state. Since he came to office in April, he has introduced a broad series of domestic reforms and unexpectedly pledged to honor the terms of the peace deal with Asmara that was meant to end the war that broke out between them in 1998.
Afwerki said the Eritrean delegation to Addis would "gauge current developments directly and in depth" to plan further steps.
The talks – seen as a major step to ending one of Africa's longest border conflicts – comes days after a blast at a rally attended by Abiy killed at least two people and injured dozens.
Read more: Ethiopia grenade blast: Second death as arrests are made
Political commentators say the meeting in Addis Ababa is a breakthrough moment for the two countries, but it is only a first step toward peace.
Ethiopia anxious for change
"We don't know what they are going to be negotiating. We don't know what their agenda is. At the moment, outsiders like me don't have a sense of what is on the table and what the agenda is, but the mere fact that this delegation is turning up in Addis Ababa is incredibly important and definitely takes the relationship between these two countries in a positive direction," Michela Wrong, an expert on Eritrean politics, told DW.
"We have to remember that the last Eritrean delegation that visited Addis Ababa went there in 1998 when fighting had just broken out on the border at Badme. They went there to try and negotiate and deal with the problems that led to that clash and then they snuck away very, very quietly and very unexpectedly," she said.
There have been no talks since, with occasional skirmishes along the border.
Ethiopia and Abiy are seen to be anxious to bring about change. Abey is under political pressure at home with opposition to the government's record and diplomatic pressure from the European Union and Washington over the standoff with its neighbor, Wrong explained.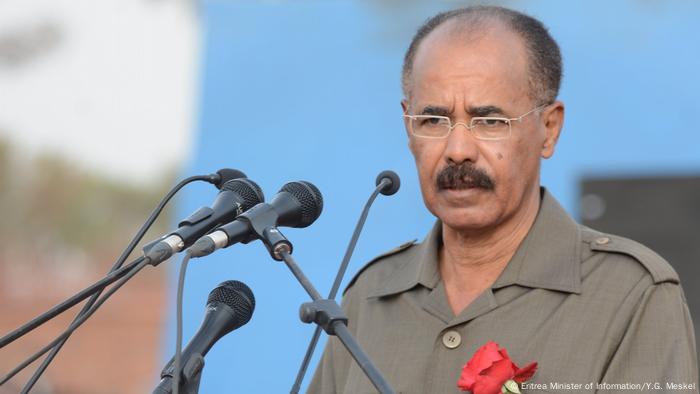 Isaias Afwerki has been president of Eritrea since 1993.
Peace could lead to Eritrean reforms
"This endless confrontation with two neighbors in the Horn of Africa that everyone made the entire Horn of Africa extremely unstable and extremely volatile. There are also solid commercial and economic reasons to tackle the problem between the two countries because as long as you have that border un-demarcated and two armies facing each other along that 1,000-kilometer (621 miles) border, you can't have trade," she said.
Political analysts suggest the border conflict with Ethiopia is what has kept Afwerki at the helm of government in Asmara.
The advent of peace may ultimately mean pressure for reform on the Eritrean leader. Eritreans may press for an end to open-ended military conscription or to have the multi-party constitution enacted or question the absence of political parties or a free press.
Enormous hurdles
"Of course there are enormous hurdles to be overcome — the main one being distrust because you can't have a confrontation for that length of time and not be in a situation where both sides really regard each other with great suspicion," said Martin Plaut, an expert on the Horn of Africa region.
So the first thing that has to be established is trust. Here, the African Union can play a considerable role because they were one of the observers, the guarantors, of the Algiers peace agreement and they really have a responsibility to try and make sure that this initiative works," Plaut told DW.
Uschi Eid of the German Africa Foundation said that on a political level, the first visit should also signal further talks. "The talks are not solved with a single visit. The door has been opened and but still other steps are urgently required," Eid told DW.
Aryam Abraha and Zipporah Nyambura contributed to this report.