Amir Aman, Ethiopia's health minister, said Sunday that a second person had succumbed to their injuries following Saturday's grenade "attack" at Prime Minister Abiy Ahmed's political rally in Addis Ababa.
"I'm sorry to learn that we have lost another Ethiopian victim of yesterday's attack who was in ICU at Black Lion Hospital," Aman said on Twitter.
"My sincere sympathy and condolences to the family, friends and all Ethiopians," he added.
The blast injured more than 150 people in the Ethiopian capital. Tens of thousands of people had gathered in Addis Ababa to show support for Abiy, who became the impoverished African country's prime minister in April.
Rally organizers claimed PM Abiy was the target of the attack.
On Sunday, Zeinu Jemal, head of the Federal Police Commission, told the state-owned Ethiopian
Broadcasting Corporation: "The number of suspects in custody for involvement in the attack in Meskel Square has now reached 30."
Nine officers, including the deputy head of the police commission in Addis Ababa, were arrested for security lapses, according to official sources.
Read more: Ethiopia will 'not slip into anarchy' after bomb blast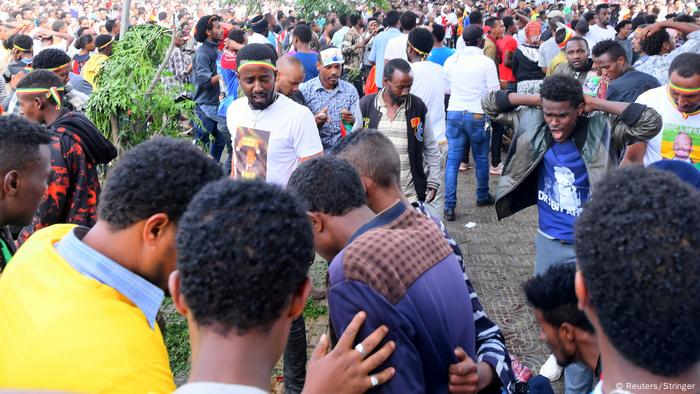 The blast in the capital caused panic among Abiy's tens of thousands of supporters
An attack on prime minister?
Since assuming power, Abiy has introduced a series of reforms, sought dialogue with the opposition and initiated peace talks with Eritrea. Analysts say that not everyone in Ethiopia's corridors of power agrees with the young premier's initiatives.
Abiy, who visited the injured in hospital on Saturday, described the explosion as a "well-orchestrated attack." The prime minister, however, did not blame anyone for the blast.
An eyewitness told DPA news agency that "a policeman in uniform" had attempted to throw a grenade at the 41-year-old prime minister.
State broadcaster ETV confirmed that authorities had detained nine police officials, including a deputy head of the Addis Ababa Police Commission, for interrogation about the explosion.
Military skeptical of reforms
Ludger Schadomsky, the head of DW's Amharic Service, noted that Abiy's reforms have not been welcomed in all corridors of power.
"The new prime minister has made himself many friends over these past three months, as could be witnessed by the huge turnout at the pro-reform march. At the same time, he has alienated powerful people in the security and military establishment who view his recent peace initiative vis-a-vis Eritrea with great skepticism. Some 100 million Ethiopians are set to gain tremendously from Abiy's reformist policies — but a few thousand are destined to lose power and economic influence," Schadomsky said.
Read more: Opinion: Too much, too soon — Ethiopia's reformer has to slow down
Eritrea's ambassador to Japan later wrote on Twitter: "#Eritrea strongly condemns the attempt to incite violence, in today's AA demonstration for peace, 1st of its kind in history of #Ethiopia."
"Although it is too early to speculate who was behind the attack, I believe it is safe to say that he needs to move more carefully on his path of reform if he wants the new Ethiopia to be all-inclusive," Schadomsky underlined.
"Some powerful people don't want to see him succeed for fear of being marginalized. So while his stamina is to be commended, he must take that into account. Saturday's attack is the first major setback for Abiy, but all in all there is no turning back from his reform agenda."
shs/rc (AP, dpa, Reuters)
Each evening at 1830 UTC, DW's editors send out a selection of the day's hard news and quality feature journalism. You can sign up to receive it directly here.