An explosion disrupted a huge rally for Ethiopia's reformist Prime Minister Abiy Ahmed on Saturday, killing one person and injuring 132 others, officials said.
Abiy had just finished addressing tens of thousands of supporters at Meskel Square, in the capital, Addis Ababa, when a grenade detonated, one rally organizer said.
The noise and explosion forced droves of supporters towards the stage, and the prime minister was hurriedly taken away.
The state-affiliated Fana Broadcasting Corporation reported that more than 100 people had been injured, 15 of them severely.
On Saturday afternoon, Ethiopia's health minister announced that one person had died in hospital.
Abiy, who took office in April, described the incident as "an unsuccessful attempt by forces who do not want to see Ethiopia united."
He said it was as "well-orchestrated attack," but one that failed.
Read more: Egypt and Ethiopia fend off water wars over Nile mega-dam
'Grenade thrown at stage'
Rally organizer Seyoum Teshome described how someone tried to hurl the grenade at the stage but was held back by the crowd.
He said three suspects, two men and a woman, were immediately arrested.
Seyoum added that most of those hurt were injured in a subsequent stampede.
The state-run Ethiopian Broadcasting Corporation reported that nine police officials were detained after the blast, including the deputy head of the Addis Ababa Police Commission. It said they were under investigation over security "shortcomings."
A witness, who was close to the blast, told The Associated Press that the grenade thrower was wearing a police uniform.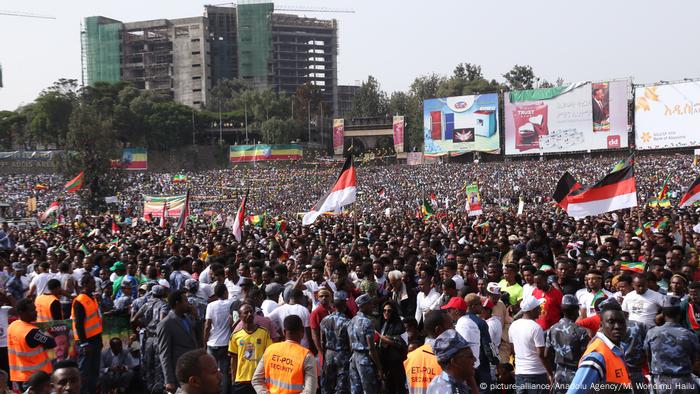 Tens of thousands of Ethiopians, heartened by a recent wave of reforms, turned out to see Abiy on Saturday
Another eyewitness described "unbelievable scenes" at Zeweditu Hospital in Addis Ababa, where the wounded were taken.
"Ambulances carried the injured to the hospital most of them bleeding profusely ... the compound is almost full of people, and the injured are lying on the ground to be treated," he told DW on condition of anonymity.
Injured sent for specialist treatment
"I spoke to doctors and they have confirmed to me that there are no fatalities until now, but some of the injured are in critical condition and they have been sent to better-equipped hospitals," he added. "Everyone is shocked and furious about what happened, and many questions remain as to why someone would carry out an attack on the new prime minister."
Initially, there was confusion over whether anyone had died at the scene. Abiy said on TV shortly after this blast that there had been several fatalities, but his chief of staff later said on Twitter that there were no fatalities.
Reformist Abiy has announced several radical policy shifts since taking office to reshape the country's relations with its neighbors, including plans to fully implement an 18-year-old peace deal with Eritrea to end a two-year war that has turned into a stalemate resulting in huge military buildup by both countries.
He also announced the release of tens of thousands of prisoners and set in motion the opening of state-owned companies to private investment.
The 41-year-old ex-army officer succeeded Hailemariam Desalegn, who resigned in February amid a wave of anti-government protests led by the country's two largest ethnicities, which started in late 2015 and left hundreds of people dead.
Eritrea's ambassador to Japan later wrote on Twitter: "#Eritrea strongly condemns the attempt to incite violence, in today's AA demonstration for peace, 1st of its kind in history of #Ethiopia."
Military skeptical of reforms
Ludger Schadomsky, the head of DW's Amharic Service, noted that Abiy's reforms have not been welcomed in all corridors of power.
"The new prime minister has made himself many friends over these past three months, as could be witnessed by the huge turnout at the pro-reform march. At the same time, he has alienated powerful people in the security and military establishment who view his recent peace initiative vis a vis Eritrea with great skepticism. Some 100 million Ethiopians are set to gain tremendously from Abiy's reformist policies - but a few thousand are destined to lose power and economic influence.

"Although it is too early to speculate who was behind the attack, I believe it is safe to say that he needs to move more carefully on his path of reform if he wants the new Ethiopia to be all-inclusive," Schadomsky said. "Some powerful people don't want to see him succeed for fear of being marginalized. So while his stamina is to be commended he must take that into account.
"Saturday's attack is the first major setback for Abiy, but all in all there is no turning back from his reform agenda."
mm/rc (AFP, AP, dpa, Reuters)
Every evening at 1830 UTC, DW's editors send out a selection of the day's hard news and quality feature journalism. You can sign up to receive it directly here.