Titilope Keshinro, a pupil at the University of Ibadan in southwestern Nigeria, naturally speaks Yoruba with her fellow students. The language spoken by 40 million people in the region, as well as in neighboring Benin, inspires her so much that she opted for studying linguistics and Yoruba. Even though the official language in Nigeria is English, Keshinro says: "I benefit more from speaking Yoruba".
In Ibadan, there are currently 50 students enrolled for a bachelor's or master's degree in Yoruba. Their career prospects are bright: graduates work as teachers or for media companies. But the indigenous language is not really popular: in recent years, several articles and non-representative polls have appeared on the subject. All of them conclude that the language is losing speakers, and, above all, significance.
The fastest growing language in southern Nigeria is Pidgin English. In Ibadan, Professor Oye Taiwo, head of the Yoruba Language Centre, has been observing another trend for years: "The elites think that the more they speak English with their kids, the better they understand English."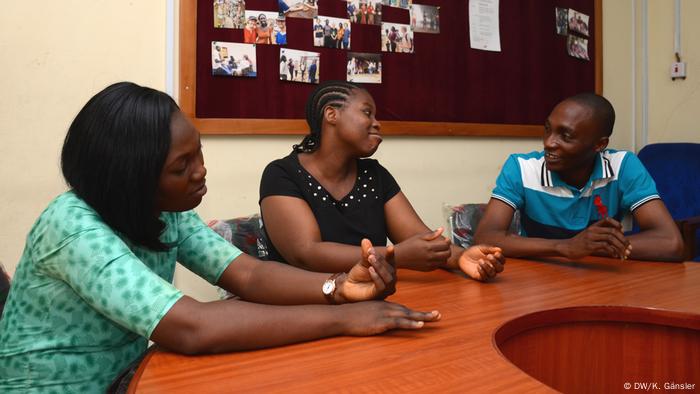 Students at the university of Ibadan can major in native languages
English as an obstacle
The opposite is true. With Yoruba as a basis, later on children would learn English much faster, he says. Professor Taiwo and his staff therefore tirelessly promote a return to the indigenous language. "For a while we went to private kindergardens and primary schools to talk to the teachers. Their attitude has changed." Ultimately, however, the parents decide which language is spoken at home.
According to Ethnologue, an annual publication on the world's languages, 517 different languages are spoken in Nigeria. After Yoruba, Hausa and Igbo are the major languages of communication. At the state-run Umaru Musa Yar'adua University in Katsina, northern Nigeria, researcher Musa Ahmed Jibril, who heads the Faculty of History, wishes that more importance would be attached to indigenous languages not only at home, but also in higher education. English – although regarded as the elite's language – often becomes an obstacle. "If we were to conduct our teaching and our research in our own language, we would be much further ahead." Many students find it difficult to express themselves in English: "But when you come down to their level, believe you me, you realize that they have potential."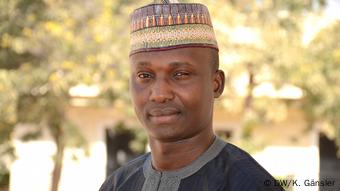 Historian Musa Ahmed Jibril wants native languages to be more valued in academia
Language as identity marker
However, university lecturers are seldom listened to in Nigeria. Chimamanda Ngozi Adichie received more attention last year at the seventh annual Igbo conference, when the world-famous author of Half the Sun and Americanah told the audience that she speaks only Igbo with her daughter. Learning English was for a later phase, she added. "I'm always struck by the surprise people show, Igbo people in particular. They are sometimes shocked when they realize that my child speaks Igbo. Why? There are even parents who, when asked, say that they do not want to confuse their children. And then they go on proudly to sign on their children for French lessons." Languages should be treated equally, the author believes. Their daily use is crucial.
That turns out to be complicated sometimes, for example for Chidi M. Ukwu, who runs a media company in the capital Abuja. His father was Igbo, but he grew up in Lagos, where they speak Yoruba. Ukwu speaks Yoruba, but not Igbo. The question of his mother tongue accompanied him throughout his life: "Many years ago a friend introduced me to one of her friends. She said: 'Chidi does not speak Igbo, by the way.' Then her friend replied: 'I am sorry for you.' That has never left me. I wondered why did this person whom I never knew feel sorry for me?"
Creating stereotypes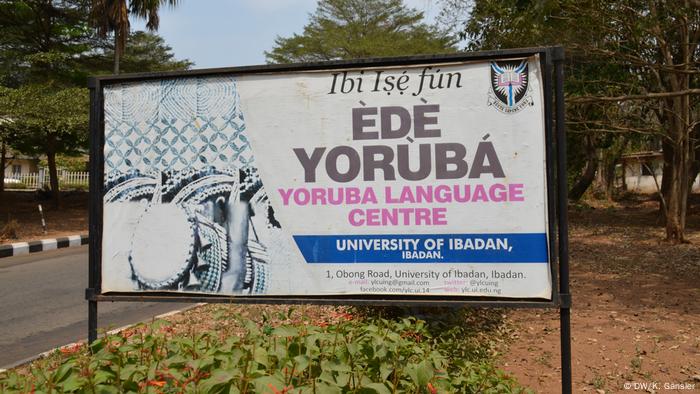 The Yoruba Language Center in Ibadan attracts students keen on preserving their language
In Nigeria, where many people identify more strongly with their ethnicity than with the state, people are viewed and view themselves above all through their language. "This may have more negative than positive connotations," says Ukwu. While languages create a sense of belonging, they can also be exclusive, divisive and create stereotypes.
In Chidi M. Ukwu's case, the only language everybody spoke was English. "It's the only language in which we can all express ourselves well." But now he encourages his children to learn as many languages as possible. "My daughter seems to be really interested in Hausa. She tries to mimic accent, and she understands some of the words and greetings."
Umar Aliyu, a taxi entrepreneur, is originally from the northern state of Adamawa. He lives with his family in Abuja. His wants his three sons to learn Hausa while playing with their friends. At home he only allows Fulfulde to be spoken – his and his wife's mother tongue. And he is very strict about it. "I decided that before they were born," he said. Umar Aliyu explains why he insists: "Language is your identity. Once you lose your language, you lose your identity."