Entertainer Sir Elton John announced on Monday that he is to retire from concert tours, but says he wants to "go out with a bang" with a 300-show farewell.
Speaking at a gala event in New York, the 70-year-old singer said his final global tour would open on September 8 and last until 2021.
John, who is famous for hits including "Rocket Man" and "Candle in the Wind," insisted the decision was not linked to recent health problems, but because he wants to spend more time with his husband David Furnish and their two sons, Elijah and Zachary.
Read more: How 'Candle in the Wind' became an anthem to Princess Diana
'Priorities changed'
"It's the last time that I will be touring and traveling the world, because my priorities have changed in my life," he told several hundred journalists and guests after a mini-concert and virtual reality presentation of his decades-long career.
"I've had a good run, I think you'd admit that," John said, adding that he wanted to "leave people thinking, 'I saw the last tour and it was fantastic.'"
Asked if he may reconsider the decision, he vowed not to do a "Cher," in reference to the American singer who announced at least two farewell tours and two Las Vegas residencies.
John, whose own Vegas residency ends in May after six years, ruled out another one before vowing: "I will be creative up until the day I die."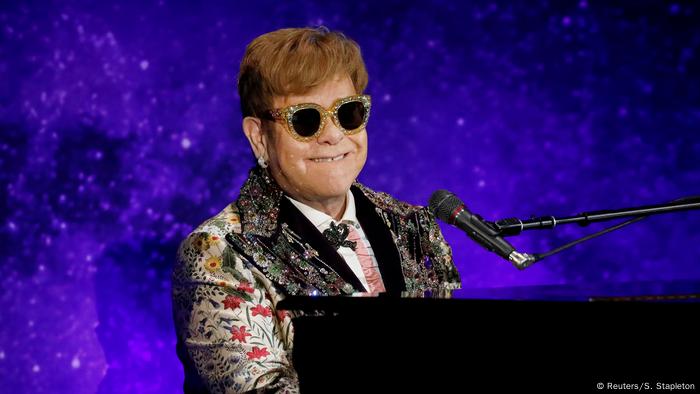 Elton John will kick off his three-year tour in the US in September before dates in Europe in April 2019
One of the first openly gay entertainers, John has sold 300 million records over the past five decades, having topped the charts with "Your Song," "Sacrifice" and "Can You Feel the Love Tonight."
He launched his first tour in 1970 and boasts of having performed more than 4,000 times in more than 80 countries.
The British singer, songwriter and pianist is due to perform alongside Miley Cyrus at Sunday's Grammy Awards and will collect the President's Merit Award.
Health concerns
John, whose real name is Reginald Kenneth Dwight, has suffered several medical setbacks of late, including a bacterial infection last year that he contracted during a South American tour and an E. coli bacterial infection in 2009. He's also suffered appendicitis and has been fitted with a pacemaker.
John's announcement comes two days after American singer Neil Diamond canceled a tour of Australia and New Zealand and retired from touring due to Parkinson's disease.
mm/se (AFP, AP, dpa)