They've got a freshness that's hard to fake. And with good reason - at the beginning of March, almost no one in Germany had heard of Elaiza.
Since then, the folk pop band's three members have proven they can win over audiences at home. They were a wildcard entry - voted in by YouTube viewers - to the national TV casting show for Eurovision that pitted them against established German chart-toppers. Elaiza came out on top.
Typical "Berliners"
Often billed as being a trio from Berlin, the three performers are actually anything but. Their bios are typical of the German capital's 20-somethings, drawn in by low rents combined with legendary creative and nightlife scenes - but where good jobs are rare.
Both accordionist Yvonne Grünwald (29) and double bass player Natalie Plöger (28) keep one foot in Berlin but commute to other parts of the country for work or to study music. Frontwoman Elzbieta Steinmetz (21), who spent her early years in Ukraine, commutes between Berlin and her family's adopted home in Saarland, where she makes ends meet by working at a department store.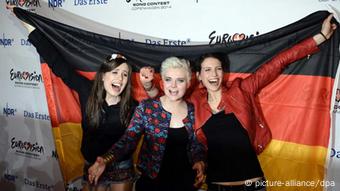 Elaiza: Yvonne Grünwald, Elzbieta Steinmetz and Natalie Plöger
Steinmetz' roots play a key role in the band's sound. "People like to call it neo-folk, but it's a bit more than that. Of course, we include Eastern European elements - this Slavic 'minor,' the groove and the instruments: accordion and double bass. But there are also lots of poppy melodies," she told DW.
The right touch
That touch of Eastern European flair could be just the ticket at this year's contest, particularly with all eyes on Ukraine right now. But the bookies see things differently, predicting a poor finish around 20th place for Elaiza, while giving top odds to a dubstep-inflected ballad by Armenia's Aram Mp3.
Elaiza's tune "Is It Right" packs a punch, but that wallop may come too early. Eurovision fans love a song that builds to a good climax, and Elaiza unleash theirs around the 50-second mark, delivering a strong chorus that suffers somewhat from repetitiveness by the end of the song.
It would be wrong to rule Elaiza out, though. They have a warm and authentic stage presence, backed up by genuine musical chops. And after all, the trio have already demonstrated their knack for a good upset.