He really stood there, Tom Hanks. "I couldn't talk I was so shocked," Kathrin Henck says, recalling the day when Tom Hanks showed up in her tourist office with two friends. Shortly before, an acquaintance of the Hollywood star had booked a private guided tour of the city with the managing director of the local tourist office. The American actor, who was at that time filming in Germany, made a private detour to what the former communist East Germany, the GDR, used to call the "first socialist town."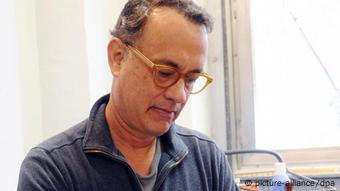 Tom Hanks caused a big stir with a surprise visit to Eisenhüttenstadt
Hanks - wearing a hat and glasses - spent two hours, without being recognized, being shown around the architecturally interesting apartment blocks in the inner city. "Awesome" is how Tom Hanks later described the tour to local media. And after his return to the USA he even chatted with talk show host David Letterman and an audience of some eight million about his impressions of what he called "Iron Hut City." "He really promoted our town, it is unbelievable," says Kathrin Henck euphorically. Eisenhüttenstadt moved into the focus of the media - positively, like it hasn't been in twenty years.
The old Stalinist town is shrinking
For a long time there was nothing good to report about the socialist model town, located one and a half hours drive from Berlin. In 1950, the foundation stone was laid for the Eisenhüttenkombinat Ost steel mill. Adjacent to that a residential area for the workers was constructed. Initially it was called Stalin Town, but later, as a consequence of de-Stalinization, the town name was changed to Eisenhüttenstadt or Steel Mill City. The locals often refer to it as just "Hütte."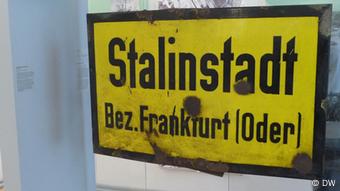 The town was initially called Stalinstadt or Stalin Town
Following German unification many left because they lost their jobs at the steel works. Before 1989 there were 53.000 living in the city, today there are less than 30.000. The city has responded with a policy of "deconstruction" - entire "Plattenbau" complexes, buildings made of large, prefabricated concrete slabs, have been torn down. The apartment blocks in the inner city dating from the 1950s on the other hand are being renovated and restored. This unique architectural ensemble is Germany's largest conservation site.
These days you can buy Eisenhüttenstadt T-shirts and thermos cups imprinted with "Iron Hut City." And this is just the beginning. "For the tourist office a Hollywood star's brief stopover was like winning the lottery," says Ben Kaden, author of an Eisenhüttenstadt blog, who advocates taking an "alternative view of the town." He does not believe that Tom Hank's visit will have a lasting effect though. "His visit will merely get people to become aware of the town's existence."
"Build on history"
For Eisenhüttenstadt the visit was clearly an educational experience. "Tom Hanks showed us what visitors want to see. We must focus on our GDR history. That is where I see our potential," says Kathrin Henck.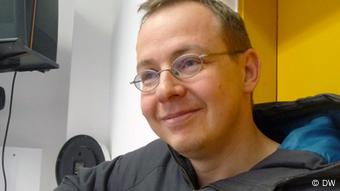 Ben Kaden blogs about the city
After German re-unification many didn't want the city turned into a huge open air GDR museum. Now, twenty years later, it seems to be a promising way to attract tourists to the town. Part of the official city tour could then also include a visit to the steelworks as well as the documentation center on "everyday life in the GDR." That museum has just opened a new permanent exhibition depicting life in the former communist state.
But what is there to the city other than its GDR past? "Eisenhüttenstadt has more to offer," blogger Ben Kaden stresses and names an example: "the little known fact that the Berlin Berlinale exhibition will in 2012 be using Eisenhüttenstadt as an additional exterior location which will bring art-interested people to the town. In my opinion we don't focus enough on this target group."
Not pretty but ….
Kathrin Henck knows that tourism is not something that runs itself. Attractions like half-timbered houses or palaces don't exist here. She however confidently states that "we are not pretty, but we are interesting." With or without Tom Hanks. Though he did promise her on his last visit that he would return.
Author: Mabel Gundlach / sc
Editor: Michael Lawton