Three-day holiday celebrations to mark the Eid al-Fitr holiday began on Sunday for the world's 1.8 billion Muslims to mark the end of the fasting month of Ramadan.
Eid is usually a time of travel, family get-togethers and lavish daytime feasts after weeks of dawn-to-dusk fasting. But this year many people can only celebrate at home, with virus fears dampening the holiday spirit and strict restrictions in place.
Saudi Arabia: The Kingdom has declared Eid begins on Sunday. Prayers will be held at the two mosques in the cities of Mecca and Medina "without worshippers," authorities said on Saturday as the country began a five-day curfew after infections quadrupled since the start of Ramadan. People are only authorized to leave their homes to buy food and medicine.
Turkey: Ankara has imposed its first nationwide lockdown before the holidays. The four-day curfew went into effect across all 81 provinces at midnight local time (2100 UTC Friday), on the eve of Eid festivities. People are not allowed to attend large gatherings or travel to visit family and friends. Congregational prayers in mosques have been suspended since March 16.
Egypt: The government has moved its curfew four hours earlier to 5 p.m. local time and has banned all public transport for six days from Sunday.
Read more: Indian Muslims face renewed stigma amid COVID-19 crisis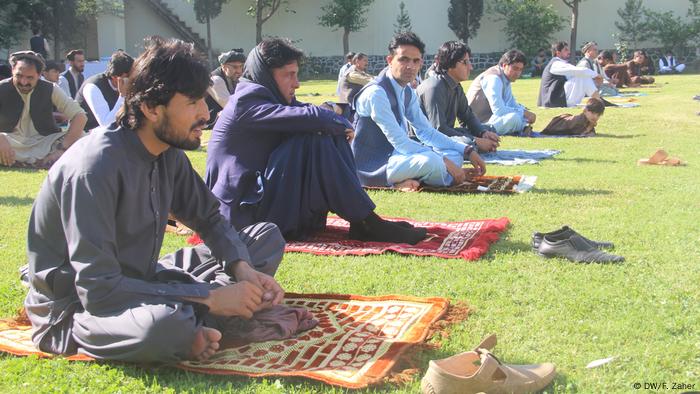 With thousands of mosques closed due to the pandemic, prayer sessions are being held outside
India: The government has banned large gatherings while in some states, Muslims have launched campaigns encouraging people to refrain from shopping for new clothes for the holiday and instead give alms to those in need. India's 172 million Muslims have faced increased stigma, threats and boycotts by some Hindus who blame the coronavirus outbreak on a three-day convention of Islamic missionaries held in March.
Pakistan: The double tragedies of the pandemic and Friday's plane crash have cast a shadow over Eid celebrations. Prime Minister Imran Khan refused to close mosques during Ramadan despite pleas from doctors. The country has reported more than 52,000 cases and more than 1,100 deaths. For the first time, Pakistan is celebrating Eid nationwide on the same day, ending an old debate between rival committees over the moon sighting that signals the beginning of the holiday.
Indonesia: The world's largest Muslim-majority nation has seen a spike in new coronavirus cases in recent days as millions of people prepare for Eid. President Joko Widodo's lockdown orders mean there will be no congregational prayers at mosques or even open field and no family reunions. In Aceh, the country's only province enforcing Islamic law, public Eid prayers can still be performed at mosques and fields, but without shaking hands and with shortened sermons.
Malaysia: Authorities will allow residents to visit relatives who live nearby, but such gatherings are limited to 20 people in the same house. Police have turned away more than 5,000 cars trying to return to their hometowns in the last few days. Malaysia also banned this year their "open house" tradition, where Muslims invite family and friends to their homes for a feast. Mosques have reopened, but congregations are limited to 30 people.
Read more: German president thanks Muslims for Ramadan lockdown conduct
Iraq: The exact date of Eid has yet to be determined in the Shiite-majority country, but it will likely be Monday to correspond with the Shiite community's celebrations in the country, as announced by top cleric Grand Ayatollah Ali Sistani. Meanwhile, Sunnis in Iraq will mark the start of the holiday on Sunday. Streets were filled with people busy shopping for clothes, toys and home appliances in the days leading up to the festival. Most businesses have been allowed to reopen in the last few weeks but authorities plan to reinstate a 24-hour curfew over Eid.
Iran: Health Minister Saeed Namaki warned people not to travel during Eid. Iran has suffered the deadliest outbreak in the Middle East with nearly 130,000 cases and more than 7,000 deaths. Ahead of the celebrations, authorities have canceled mass prayers in Tehran traditionally led by Supreme Leader Ayatollah Ali Khamenei.
Yemen: Houthi rebels have urged believers to wear face masks and stay indoors, as authorities try to prevent viral transmissions at a time usually marked by large-scale multigenerational feasting and collective prayers.
The Balkans: Coronavirus restrictions remain in place in Albania, Bosnia-Herzegovina and Kosovo. In the Bosnian capital, Sarajevo, mosques reopened on May 6 after seven weeks of lockdown. Worshippers are required to wear masks and practice social distancing. The elderly are urged to pray from home. The mufti of Kosovo's Islamic community led prayers in a mosque in front of a small group of imams sitting 1.5 meters apart, with the sermon broadcast outside on loudspeakers.
Subscribe to Corona Compact — DW's newsletter tracking coronavirus in Asia