Authorities said that shortly after the noon prayer time on Friday, men in four off-road vehicles surrounded the Al Rawdah mosque, some 40 kilometers (25 miles) west of the provincial capital, Arish, before planting explosives.
After the explosives went off, the attackers opened fire at those who fled. Media reports described at least 20 masked gunmen using automatic rifles in the assault.
The victims included civilians and military conscripts.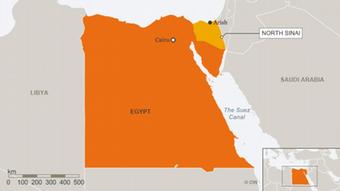 The mosque is largely attended by Sufis, who follow a mystical branch of Sunni Islam. Islamic extremists consider Sufis heretics.
No group has claimed responsibility for the attack, but it bore all the signs of the "Islamic State" (IS).
Read more: Egypt's tourism industry suffers a critical blow
Egyptian security forces are fighting an insurgency by an IS-affiliated group in Sinai, with militants having killed hundreds of police and soldiers over the past three years as fighting there intensified.
Militants have also previously targeted Sufis and Coptic Christians, as well as civilians accused of cooperating with government forces.
The attack on the al-Rawdah mosque took place during a congregational prayer session
Air strikes
Later on Friday, Egypt's air force bombed "terrorist" locations in the northern mountainous area around Bir al-Abed in response to the deadliest terror attack in the country's history.
Earlier in the day on Friday, militants set off bombs and opened fire on worshippers at a mosque in Egypt's restive northern Sinai, killing at least 305 people and injuring some 128 others, according to the public prosecutor's office.
Spokesperson for the Egyptian air force Tamer-el Refai said that air force planes sent to Bir al-Abed had "destroyed several vehicles used in the attack" as well as targeted hideouts where weapons and ammunition were stockpiled.
President Abdel Fattah el-Sissi had promised that the attack would "not go unpunished." He convened an emergency security meeting soon after the terrorist assault.
Read more: Egypt's Sissi vows to help Coptic Christians fleeing Sinai
Condemnation
The Egyptian government also declared three days of mourning in the wake of the attack, as international condemnation and condolences poured in.
US President Donald Trump described the violence as a "horrible and cowardly terrorist attack" and called for the world to take tougher military measures against extremism.
Paris Mayor Anne Hidalgo also announced that the Eifel Tower would go dark at midnight to honor the victims of the deadly assault. The city's landmark tower has turned off its lights in solidarity with other cities that have been struck by terror, such as Barcelona, Spain and Mogadishu, Somalia.
The United Nations also condemned the attack in "the strongest terms" and expressed its condolences for the victims' families and the people of Egypt.
Egypt also received messages of solidarity and condolence from Israel, Iran, Iraq, Saudi Arabia, Russia and the Vatican.
cmb/rt (dpa, AFP, AP)