Entering the migrants' camp outside Dunkirk, a hand-painted sign offers "Liberty, brotherhood, equality, sisterhood, welcome." A more official-looking board beneath it explains that the camp aims to enable migrants "to stop, to rest, and to think about their route … in complete safety." Next is a building used for laundry, a small office, a nurse's room, a burnt-out health center, a wood store, a communal kitchen, a shower block, a children's play area - and row after row of chipboard cabins, each numbered, that house around 1,400 people.
These migrants are determined to reach Britain, despite the government's refusal to take any more than 350 minors from the "Jungle" camp in Calais after it closed last October. Since then, the population of the Dunkirk camp, La Linière, has doubled. Most residents are Iraqi Kurds, Afghans, Iranians or Vietnamese. They are prepared to pay thousands of pounds to be smuggled onto a lorry bound for Britain, leaving from Zeebrugge, Dunkirk, Calais or Boulogne. But while they wait, perhaps while they persuade relatives back home to help with the transfer of funds, they exist here.
Read: Calais migrants to be dispersed across France
Read: Suspected migrant smugglers lead Belgian police on fatal high-speed chase
"It's 100 times better than it used to be," says Lydie Granger, pastor of a local Evangelical church that distributes clothing, trainers and sleeping bags to the camp's residents. Of the previous camp, where migrants lived in a muddy sprawl of flimsy tents, she said she found herself wondering: "Is this France?" However, even the new camp is showing signs of wear and tear. "The shelters are run down and the showers are really bad now - hundreds and hundreds of people going through them for a year," she told DW.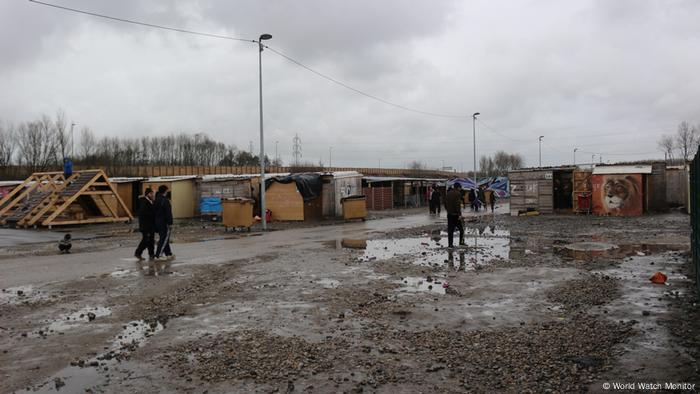 Misery and desperation pervades the camp
Fleeing violence, but encountering yet more
One resident, Suren Salar, 27, a Kurd from the Iraqi city of Kirkuk, told DW he was injured in a bomb attack by a Sunni insurgent group in 2005, and rolled up his sleeves and trouser legs to show the burns. Another man, Twan, said he had fled Mosul five months ago and his house there had been "finished" in the anti-"Islamic State" (IS) push. A handful of residents are Iranians who have become Christians, seeking refuge because conversion can lead to jail or a death sentence back home.
Having done the hard part, refugees find the presumed safety of the camp very often to be elusive. "Yesterday, ta-ta-ta," says Twan, miming shooting with his hand. "Mafia." Another resident, speaking from the privacy of her cabin, elaborates. "It was outside my door, at around 5 p.m," says Sarah, an Iranian convert whose husband entered Britain three months ago after paying traffickers £3,000. The local paper La Voix du Nord reported that four migrants and a security guard were injured in the shooting. The paper carries similar reports every few months. Migrants say gunfire comes from Kurdish gangs who control the camp. The day after the incident, special police boosted the security presence on the camp gate.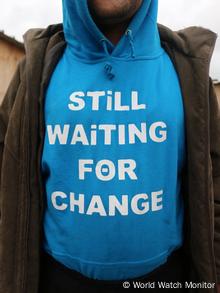 Getting their point across
A member of the local government in an office by the entrance said she was not authorized to speak to the press. The local and regional préfectures also declined to comment.
Another camp, more misery
A hierarchy has developed within the camp: Iraqi Kurdish men are best connected and resourced; below them are non-Kurds, non-Muslims, and women and children. A report by the Observer newspaper concluded sexual abuse was "common" in the camp, and found instances of women and children being raped in return for food or passage to Britain. A volunteer at the women's center told DW the center was burnt down in January - it was quickly rebuilt - but aid volunteers believed it to have been razed by men jealous of the provision.
If the situation for Middle Eastern migrants seems unregulated, then that of the estimated hundreds of African migrants in the Pas de Calais is even further removed from any kind of state infrastructure. Fifty miles inland, outside the village of Norrent-Fontes, is a sad huddle of huts and decrepit caravans. A notice on the approach to them commemorates a 25-year-old who was beaten to death by smugglers last October.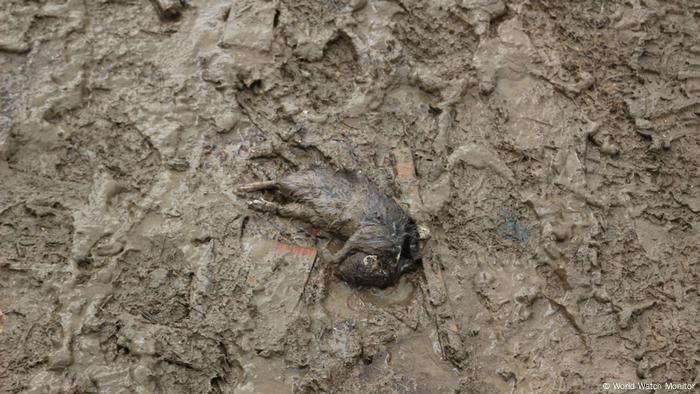 The dismal situation is exacerbated by poor hygiene standards
Stray cats wander over the huts, caravans and litter, the cold wind carries the smell of urine, and in the thick, wet mud lies a dead rat. One man said he was an Ethiopian Muslim but shouted, "No photos, no journalists," and a softly spoken Orthodox Christian named Helen, when asked whether it's worth it, replied: "It could be."
Read: Amid rats and mud, refugees struggle in French camp
A helping hand?
Helping the migrants presents a dilemma. Pastor Granger distinguishes between helping the stranger and aiding criminality. "We are not pushing them to go illegally," she told DW. In addition to giving out food and clothes, volunteers offer lifts from the camp to twice-weekly services and meals. "[We] pray for them, for God's favor and protection. I'm not saying God's favor is to help them to go illegally but … I'm looking at their desperate situation."
The church's volunteer Laila Mohamed, who works in both camps, points out the dozens of young men in dark coats and carrying rucksacks drifting across a local hypermarket car park at dusk. "They go in the truck, the truck is sealed, and they stay in the truck til the following day. That's what I have been told."
Read: Calais refugees adapt to life in the UK
Rather than increase accommodation for migrants to prevent people sleeping rough - with the associated social and hygiene risks - local authorities turn a blind eye and want to reduce the existing provision in La Linière to 300 migrants.
However, Pastor Granger and Laila Mohamed do not believe the number of migrants entering the area will fall. They list political and religious pressures in Iraq, Syria and Iran, climate change, poverty in Eritrea and Egypt, and increasingly, Yemenis fleeing conflict as a never ending source of misery and persecution. Pushed by a lucrative smuggling route, the number of migrants in northern France seems more determined by smugglers exploiting geopolitics than by local politics.
Abigail Frymann Rouch traveled with World Watch Monitor.