Sunshine instead of floodlights, points rather than progression, injury concerns rather than confident returns. Saturday's clash between Bayern Munich and Borussia Dortmund felt like the game before the game.
With the gap – both sporting and financial – between Bayern and Dortmund seemingly too big to bridge across a season, the pair's recent meetings in knockout competitions tend to have the kind of bite to them that this match rarely threatened to provide. It must be hoped that the German Cup semifinal at the end of the month provides the competitiveness lacking in this game, but that will only be the case if Dortmund heed the lessons of a league fixture that always felt like a prelude.
In October 2015, an utterly dominant Bayern dispatched Dortmund 5-1. A year and a half later and with seven of the same starters, Bayern threw their weight about again, the story was all too familar. Granted, Dortmund only had four of the same starters and were forced to make widespread changes due to injuries, but their performance was still well below expectations, never mind the fixture's unrealistic billing as a clash of two near-equals.
An experienced head in a youthful side, Marcel Schmelzer had perhaps the most torrid time of all of BVB's players. But the left wing-back was just one of a number of culpable men in yellow and black as Dortmund's back five fell apart.
Thomas Tuchel spoke afterwards about giving his young players the chance to develop themselves and this game serving as a chance to gain experience in big games. While it may be true that Felix Passlack will have learned a great deal on the night, that didn't make his efforts any easier to watch. Emre Mor's cameo appearance had Tuchel ranting on the sidelines, and not to highlight the impressive nature of the young Turkish winger's performance. Too much is constantly expected of any footballer who shows a glimpse of talent, but, despite the youth, there was enough quality in Dortmund's team to avoid this kind of passive, error-heavy performance.
The jewel in Dortmund's crown of wonderkids Ousmane Dembele also looked a shadow of himself. An early spark in the first few minutes quickly morphed into the man ducking in the wall as Robert Lewandowski converted a free kick. Rightly or wrongly, Pierre-Emerick Aubameyang will be remembered for not scoring his one real chance with the score at 3-1 – especially as Lewandowski instantly went down the other end to win and score a penalty. The difference between the two sides was so great, even Dortmund's goal appeared to come as a surprise to them.
Perhaps even more astonishing though, was that two of the world's most famous and familiar wingers caused the same problems they have done for most of their careers, seemingly with Dortmund having no plan to stop them. Arjen Robben and Franck Ribery doing the damage was bad enough, but the fact the pair did so looking fresher than ever despite having featured in all three games in the last nine days was a shot in the eye for those who believe in youth over experience.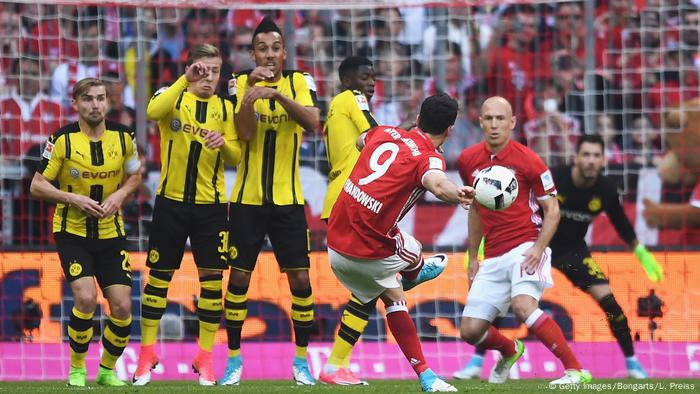 Ousmane Dembele turns his back to Robert Lewandowski's free kick
Robben was a different player to the one shutdown by Hoffenheim's converted left-winger Steven Zuber on Tuesday night in Sinsheim, leaving Schmelzer looking as if he had never faced the Dutchman before. Time after time Schmelzer fell for Robben's trademark drives inside from the left and the Dutchman could easily have scored more than once.
In many respects, there's little that's remarkable about Bayern playing remarkably. After the first quarter of an hour, it looked more like another episode of Bayern TV highlights rather than Germany's classic encounter as the hosts prodded at the shaky screws of Dortmund's faltering machine.
As if to suggest that the billing of the match was false, Tuchel said afterwards that "anything other than this dominance would have surprised me," a fairly damning indictment of where the Dortmund coach sees his team in relation to the champions.
On the other side of the coin, Robben was talking about the importance of squad depth and how much fun it is to play when you beat such a strong opposition. "If we want to win, we need the whole squad. Everyone is important," the Dutchman said afterwards.
There was even time for Robben to answer questions on Bayern's upcoming clash with Real Madrid, whereas Tuchel declined to talk about his side's fixture with Monaco. Both those ties are more important than the latest episode of the Bundesliga's most-hyped battle, but Dortmund must at least put up more of a fight than this when they return to Munich for the German Cup semifinal on April 26.