Another five Russian athletes were banned for life from the Olympics on Monday after the event's international governing body found they had doped at the 2014 Sochi Winter Olympics in Russia.
The International Olympic Committee (IOC) handed down bans for gold medalist bobsledders Aleksei Negodailo and Dmitry Trunenkov, silver medalist biathletes Yana Romanova and Olga Vilukhina and skeleton athlete Sergei Chudinov.
The decision also stripped the four medal winners of their awards.
The Russian Bobsleigh Federation said the lifetime bans against Negodailo, Trunenkov and Chudinov lacked any legal foundation and was "the height of injustice."
Read more: WADA — Russia still 'non-compliant' with anti-doping code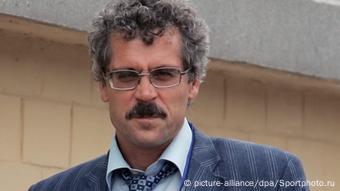 Rodchenkov has alleged that Russian athletes were part of a state-run doping program
Russian whistleblower provides evidence
As of Monday, the IOC has banned 19 Russian athletes and annulled 12 medals since it began two separate anti-doping investigations.
One of the investigations has been looking into whether Russian authorities covered up test samples during the 2014 Sochi Games, while the other has been investigating whether they engaged in systematic state-backed doping.
Both probes are based on allegations made by the former head of Russia's anti-doping laboratory, Grigory Rodchenkov.
In a separate announcement, the IOC released the reasoning behind its decision to ban cross country gold medalist Alexander Legkov for life on November 1.
Citing evidence provided by Rodchenkov, the IOC said Legkov "was a participant in, and a beneficiary of, the cover-up scheme implemented on the occasion of the Olympic Winter Games Sochi 2014."
Read more: New blow to Russian state-sponsored doping denials
A Russian scandal
The ongoing drama surrounding widespread doping by Russian athletes during the 2014 Games has already led the IOC to suspend RUSADA, Russia's anti-doping agency, as well as its athletics federation and Paralympic Committee.
The international body's executive board will decide in early December whether Russian athletes will be allowed to compete in the 2018 Pyeongchang Winter Olympics in South Korea in February.
amp/cmk (Reuters, dpa, AP)