Investigators have uncovered a German doctor's client list of 21 athletes from Europe, Korea and the US suspected of blood-doping across five sports, Munich prosecutor Kai Gräber said Wednesday.
The doctor, Mark S. from the German city of Erfurt, was arrested in a raid last month. Five athletes were taken into custody as they competed at the Nordic world ski championships in Seefeld, Austria, on February 27 as part of the busts.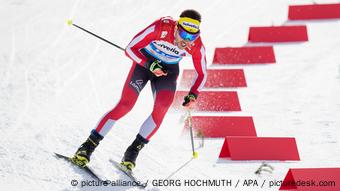 Austrian skier Dominik Baldauf confessed to doping
The ring is believed to have been run out of Germany and allegedly involved boosting the red blood cell count of the athletes from Germany, Austria, Italy, Sweden, Finland, Estonia, Croatia, Slovenia, South Korea and the US.
Prosecutors did not identify those accused, but the Nordic skiers and cyclists arrested in Austria have already confessed and have been suspended from competition. The doping is alleged to have taken place since 2011 and incorporates both summer and winter sports.
Some of the athletes did not yet know they had been identified as investigations were still in progress, prosecutors said.
Unsafe medical practice
Mark S. was said to have received between 4,000 and 12,000 euros ($4,500-$13,600) per client each season to extract and freeze their performance-boosting red blood cells and re-inject them shortly before competition. The body naturally replaces blood that is removed, so reinserting more before competing then gives the athlete an abnormally high quantity of (clean) blood during an event, meaning they have an advantage but do not fail a urine test for banned substances.
Investigators found that the transfusions were carried out by assistants without medical training in unsanitary conditions, thawing frozen blood bags in sinks of water rather than carefully warming them using proper equipment.
Prosecutor Gräber said that two of the suspects had an extra liter of blood injected before flying to the Pyeongchang Winter Olympics last year.
"That is definitely not proper medical practice," Gräber said.
Public confessions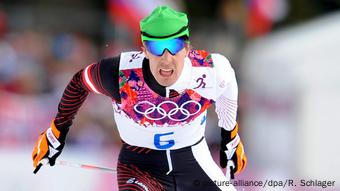 Johannes Dürr in action at Sochi
The probe and subsequent raids were triggered when Austrian cross-country skier Johannes Dürr admitted to doping in an interview with German broadcaster ARD, resulting in his arrest on March 5.
Since the arrests other Austrian athletes have been implicated, among them cyclist Georg Preidler, who told police he had attempted doping.
ta/msh (dpa, Reuters, SID)
Every day, DW's editors send out a selection of the day's hard news and quality feature journalism. Sign up for the newsletter here.