Donald Tusk, president of the European Council, was questioned on Monday in Poland as part of a parliamentary investigation into a pyramid scheme that swindled thousands of Poles during his time as prime minister.
The Amber Gold scandal, which came to light in 2012, was one of the biggest business affairs in Poland since the fall of communism in 1989.
The case is being investigated by the Polish government, led by the conservative Law and Justice (PiS) party, which set up a special multi-party commission that has questioned dozens of state officials.
Tusk served as Polish prime minister between 2007 and 2014 and since then has served as EU Council president, being reelected for a second term in March 2017 by 27 member states, with only one vote against him — that of Poland.
Amber Gold
Amber Gold was active between 2009 and 2012 and was founded by Marcin P, who had been earlier sentenced on several occasions to prison for bank fraud, embezzlement and forging of documents, all sentences suspended.
Read more: Warsaw and Budapest go nuts for gold
Amber Gold invested in precious metals and offered clients an attractive interest rate for its deposits. The company, based in Gdansk, in northern Poland, drew in 50,000 investors and cheated 19,000 of them out of 850 million zlotys (€197 million, $230 million). It turned out the company had been used as a money laundry.
While prime minister it is alleged that Tusk ignored information given to him by the head of the Internal Security Agency and the president of the National Bank of Poland, who warned him that his son was involved in the Amber Gold Ponzi scheme.
It is also alleged that Tusk's government did nothing when in December 2009 the state-run Financial Oversight Commission, KNF, issued a warning that Amber Gold had no permit to carry out banking activities.
At the time Amber Gold owned almost all shares in OLT Express airlines, which employed Michal Tusk, the prime minister's son.
It turns out that Amber Gold regarded Michal's employment as a protective umbrella. Marcin P. said: "I employ the prime minister's son. As long as he works for us, I think we are untouchable."
Tusk said it was not the prime minister's job to issue a warning about Amber Gold. "While I have sympathy for those who invested in Amber Gold, because they are the victims of these dealings, I want to say that a warning by the KNF that it was linked to very high risk was publicly available."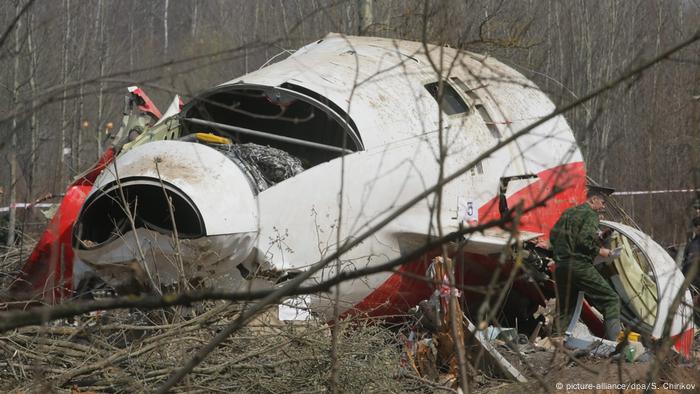 There have been years of animosity between Tusk and PiS leader, Jaroslaw Kaczynski, who claims that negligence under Tusk was the reason for the 2010 plane crash in which his twin brother, President Lech Kaczynski, was killed
Politics turned upside down
But the scandal returns to the limelight as the party Tusk founded, Civic Platform (PO), is trying to build up steam ahead of key domestic and European elections in 2019 and 2020.
Read more: Is 'Polexit' in the cards? Tusk warns Poland may quit EU
The scam has raised questions about the effectiveness of government during Tusk's term. For critics, it highlights Tusks' hypocrisy in criticizing PiS for failing to enforce democracy and the rule of law.
Tusk told PiS it was using his televised questioning for political purposes. "You need this commission, you need this spectacle to keep repeating ... your insinuations, also on the subject of my family," Tusk said.
To add to the spice, the commission's head, Malgorzata Wassermann of the ruling PiS, on Sunday lost her bid to become mayor of the city of Krakow. She is also the daughter of a figure who died in the 2010 plane crash that also killed then President Lech Kaczynski.
Read more: Poland: Urban voters reject ruling party in local elections
Tusk's former finance minister, Jan Rostowski, told DW that "Wassermann behaved like a Stalinist prosecutor, interrupting the witness, not allowing him to answer and even turning off his mike."
The scandal hurt the PO government of the day as it turned out that the Gdansk tax office, the prosecutor's office in Gdansk and the local courts had allegedly given Amber Gold a lot of room to maneuver.
When it came into office in 2015, PiS decided to set up a special parliamentary committee to investigate the scandal. The committee will publish its findings before the general election in late 2019.