The decision comes as a result of a DFB meeting on Monday which involved, amongst others, DFB President Reinhard Grindel, vice-president Ronny Zimmermann and Head of Referees Lutz Michael Fröhlich, who will assume Krug's role in the interim.
Read: Grindel did not approve "secret" VAR changes
The DFB are allegedly reacting to a report in BILD am Sonntag which accused Krug, who will also cease working as a supervisor in the German Football League's (DFL) Control Center in Cologne with immediate effect, of influencing the decision of the VAR in a manner not befitting his role. Krug has denied the claims.
"As a supervisor, we are not authorized to influence or overrule the decisions of video assistants," said the 61-year-old.
Marco Fritz, the acting VAR for the match in question, Matchday 10's 1-1 draw between Schalke and Wolfsburg, also came out in support of his boss: "In all situations that are checked at the review centre in Cologne, the decision to intervene is made by the video assistant. That was the case for Schalke against Wolfsburg."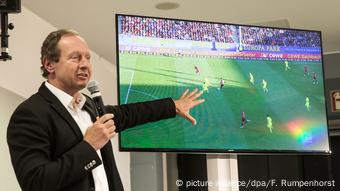 The VAR experiment has sparked controversy and debateamongst fans, players and officials, becoming a bigger source of irritation than justice.
"The whole communication from the DFB is currently catastrophic," fumed Borussia Mönchengladbach's Sporting Director Max Eberl. "If you have a test phase and you want to adapt the entire system, that's justified, but then everyone should know it. We should only need the video assistant in a situation which is really crucial to the game."
Nevertheless, even in the face of intense scrutiny and criticism, DFB President Grindel remains in staunch support of VAR: "I still believe in the project, once everyone clearly defines their roles and then sticks to them, I'm pretty sure that this can be something very good for football".
(jt/ftm)