For the French press, there weren't enough superlatives to describe Julian Draxler's role inPSG's 4-0 dismantling of Barcelona on Tuesday night.
Broadsheet Le Figaro said the German international was "distinguished, rapid and decisive with impeccable technique." France Football hailed "yet another superb strike from the excellent Draxler." The notoriously ruthless L'Equipe called him "outstanding - a masterful display of technique, superior from start to finish," and gave the 23-year-old a rare 8 out of 10 rating.
Reading such appraisals, Wolfsburg fans could be forgiven for wondering if the French are talking about the same player who managed only eight goals in 45 appearances during an indifferent spell in the Autostadt before his winter move to Paris.
For Schalke fans, the feeling will be one of frustration. Draxler's talent is only too well known in Gelsenkirchen, where he played from the age of eight, making his debut for his hometown club in January 2011 aged only 17 years and 117 days - the fourth youngest debutant in Bundesliga history.
Bad reputation
But following an impressive 2012-13 season (13 goals in 39 appearances), Draxler's form tailed off and his head was turned by the attraction of Champions League football in flush Wolfsburg. For fans of the Royal Blues, it was the act of a "mercenary," and he's never been forgiven in the blue half of the Ruhr.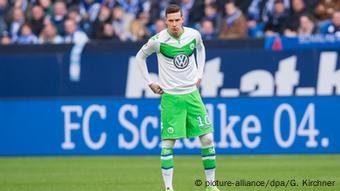 Draxler cut an unhappy figure during his time at Wolfsburg
Not that Draxler made friends in Lower Saxony either, once saying that the best thing about Wolfsburg was the train station from which he could travel to Berlin, and demanding to be sold in last summer's transfer window. With the Wolves battling against relegation from the Bundesliga in the first half of the season, he was only too happy to jump ship when Paris St Germain came calling this winter.
For the cynics, it was unsurprising. Draxler only has himself to blame for acquiring a reputation as a luxury player with a taste for the bright lights and the big stage rather than Europa League football in Gelsenkirchen or a relegation battle in Wolfsburg.
Renaissance in Paris
Destinations don't come much more glamorous than Paris but Draxler has already started to repay the estimated 40 million euros ($42 million) that Paris Saint-Germain's Qatari owners paid for him with a series of impressive performances. Not only has he found the net himself on his debuts in both the Coupe de France and Ligue 1, he also appears to have brought the best out of Angel Di Maria, the Argentine winger with a similarly luxurious reputation who had enjoyed an equally unimpressive first half of the season.
Together, in the words of Le Figaro, the pair formed the "magnificent wings" of a PSG machine that inflicted an "incredible, inconceivable and surreal" defeat on European royalty at the Parc des Princes.
"Play like warriors!" the PSG fans demanded on a banner behind one goal, "your soldiers are behind you!" And Draxler responded, signaling his intentions as early as the sixth minute when he fired over the bar from long range. Ten minutes later, his quick turn on the edge of the box drew the free kick from which Di Maria gave PSG the lead.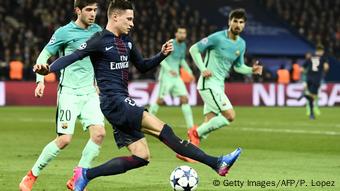 The German played a key role in PSG's demolition of Barca
Draxler was involved in everything that was good about PSG and was working hard, tracking back to close down Luis Suarez after a wayward clearance from Kevin Trapp - a far cry from the disinterested figure he cut out on the wing in Wolfsburg. Soon after, he was in the box at the other end, leaving Sergi Roberto for dead before firing a shot that was well saved by compatriot Marc-André ter Stegen in the Barcelona goal.
Ten minutes later, ter Stegen had no chance. The outstanding Adrien Rabiot won possession on the halfway line and Marco Verratti fed Draxler who took one touch before drilling the ball into the bottom corner. It was an unstoppable finish which epitomized the confidence with which Draxler and PSG took the game to Barcelona.
Draxler still has a lot of work to do to convince his many critics but he can start by establishing himself as a driving force in this exciting, young PSG team. And if the French press run out of words to describe his performances, perhaps they can ask him for some German ones instead.