The boss of troubled German lender Deutsche Bank thinks the roll-out of new technology will allow much larger savings in staff salaries, he hinted on Wednesday.
In an interview with the Financial Times, CEO John Cryan said: "We employ 97,000 people ... most big peers have more like half that number," before saying that "machine learning" and "mechanization" will allow the firm to make greater efficiencies.
Trimming the fat
Cryan, who has already ordered a 5-year restructuring plan, said the number of front of house staff responsible for bringing in revenues was "out of kilter" with back office staff, those who do the number crunching.
Read more:Deutsche Bank CEO John Cryan warns of asset bubbles, calls on ECB to change course
At a conference two months ago, he also lamented that the bank's staff "spend a lot of the time basically being an abacus" and whose roles were ripe for automation.
Deutsche Bank already announced in 2015 that it will cull 9,000 jobs as the lender comes to terms with sharply lower revenues, but to date only 4,000 have been lost.
Cryan also told the FT that collaborating with other banks over fraud protection would be "easy" opportunity to make savings, as all lenders have huge departments dealing with crime prevention.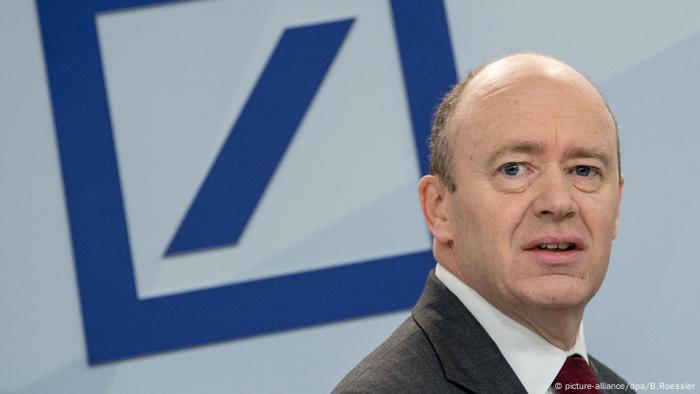 John Cryan joined Deutsche Bank as co-CEO in 2015 before going solo a year later
Postbank too
He also said there was scope to close branches of its German retail subsidiary, Postbank, which Deutsche Bank has decided not to sell, and instead aims to make some 900 million euros of savings from over the next four years.
"The truth is if I went to a load of branches, I'd wait quite a lot of the day before I encountered [any] customers. They just don't come in as often as they used to."
Cryan's straight-talking approach has won him critics who accuse him of demotivating staff, leading key staff to depart the lender, the FT reported.
Read more: Donald Trump owes Deutsche Bank big bucks
A year ago, Deutsche Bank appeared to teeter on the brink of a bankruptcy when it emerged that the US Department of Justice was pursuing a vast $14 billion penalty over mis-sold mortgage securities. The scandal saw its shares plunge and many important clients leave.
Worst over?
While the bank has settled most of the thousands of legal cases resulting from its financial wrongdoing, Cryan is now under pressure from investors to deliver stronger results.
Last month, Deutsche Bank announced its third-quarter net profit more than doubled compared with the same period in 2016, reaching 647 million euros and beating the expectations of analysts who had forecast net profit to come in at 586 million.
Overall revenue, however, fell 7.0 percent to 6.8 billion euros amid a sharp slump in the bank's corporate and investment banking business, which was down 23 percent in the quarter.