A clearer picture began to emerge Thursday of the investigation leading to the arrest of three Syrian men who were allegedly planning to carry out a terrorist attack in the western German city of Düsseldorf.
The terror plot was uncovered because a fourth Syrian man, identified as Saleh A., voluntarily turned himself into authorities in Paris on February 1 and admitted to the plot, officials said.
A spokesman for the French ministry of justice said Saleh A. told authorities he had "information about a sleeper cell" of the "Islamic State" (IS) group that was prepared "to strike in Germany."
Saleh A. was interrogated repeatedly by anti-terror experts, charged with aiding a terrorist organization and taken into custody. Germany is currently seeking his extradition.
It took German prosecutors four months to gather enough evidence against the three men to arrest them. The arrests reportedly took place in the city of Mühlheim an der Ruhr in the state of North Rhine-Westphalia, in Germany's southwestern state of Baden-Württemberg as well as the eastern state of Brandenburg.
According to German federal prosecutors, two of the men were planning to blow themselves up on a busy road in downtown Düsseldorf, while the other attackers would target pedestrians with guns and explosive devices.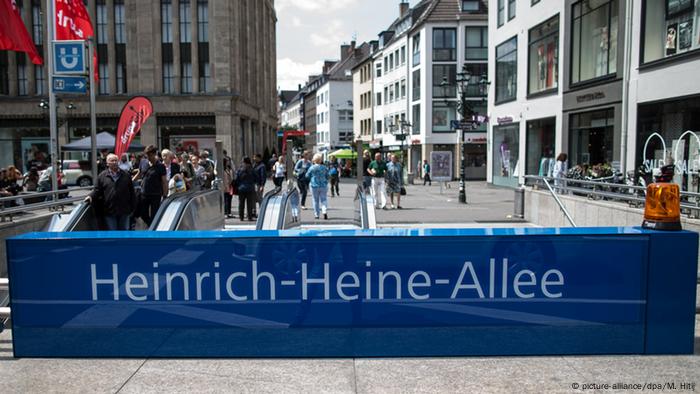 The planned terror attack called for suicide bombings and mass shootings on Düsseldorf's Heinrich-Heine Allee
Refugees under suspicion
The arrests are likely to spread concerns that Germany has become a likely target for Islamic militants in Europe, especially as the nation continues to grapple with a massive influx of refugees.
One of the suspects had made a request for asylum in Germany after registering at a refugee shelter in the eastern town of Bliesdorf in September of 2015. Officials have warned they believe IS militants took advantage of the mass flow of refugees into Germany to sneak fighters into the country.
But German police union chief Rainer Wendt cautioned against placing entire refugee groups under suspicion. He told the German dpa news agency that IS' strategy is to discredit entire groups and sow fear among the German population by placing its own operatives amid groups of refugees.
"We must push back against this," Wendt said.
Plan of attack
According to prosecutors Salah A., 25, and one of the three men arrested in Germany, 27-year-old Hamza C., joined IS in Syria in the spring of 2014 and received orders to carry out an attack in Düsseldorf.
The two men traveled to Turkey in May 2014, before continuing separately through Greece to Germany in March and July of last year.
By January 2016, a third man, Mahood B., 25, agreed to participate in the attack, prosecutors said. Around the same time a fourth man was recruited, Abd Arahman A., 31, whose task was to make suicide vests.
Prosecutors believe Abd Arahman A. had worked previously for the militant group Nusra Front in Syria before IS sent him to Germany in 2014 to carry out the planned Düsseldorf attacks.
bw/jm (Reuters, AP, dpa)