After eleven years of campaigning, fundraising, and at least three independent fire tests, state prosecutors in Dessau, eastern Germany have re-staged the death of Oury Jalloh, a Sierra Leonean asylum seeker who died in a police cell on January 7, 2005.
The fire that the police claim led to Jalloh's death was re-enacted on Thursday at a specialist research institute in Dippoldiswalde, Saxony, after being commissioned by state prosecutors, who added it would take weeks for results to be released. "We're starting from zero and deliberately leaving previous results to one side," spokesman Olaf Braun told the DPA news agency.
By "previous results," Braun was referring to independent tests carried out by an Irish investigator. He had been commissioned by an initiative set up by Jalloh's friends to investigate the death.
The Irish investigator's results prompted state prosecutors to re-open the case in 2014, after he concluded that the degree of damage to Jalloh's body and the mattress he was lying on could not have been caused without the aid of two to five liters of combustible fluid.
The "Break the Silence" campaign set up in remembrance for Oury Jalloh was less than happy with Thursday's re-staging, saying they had seen a number of discrepancies between the original conditions of the fire and the test reconstruction.
"The cell reconstruction did not really match the real cell," said Thomas Ndindah, a member of the initiative. "The reconstructed cell was only tiled to a height of around one meter - the original cell was fully tiled. The mattress that was used was too small, it wasn't against the wall, and the dummy [parts of a pig carcass] was wrapped in aluminum, which can't be used as an equivalent for organic materials."
Though official test results will not be published for several weeks, Ndindah said that the mattress had only burnt at one end, and not been completely destroyed as Jalloh's mattress was. For its part, prosecutors released a statement on Thursday claiming that the campaigners' independent researchers had been invited to take part in the test, but their lawyers had not responded.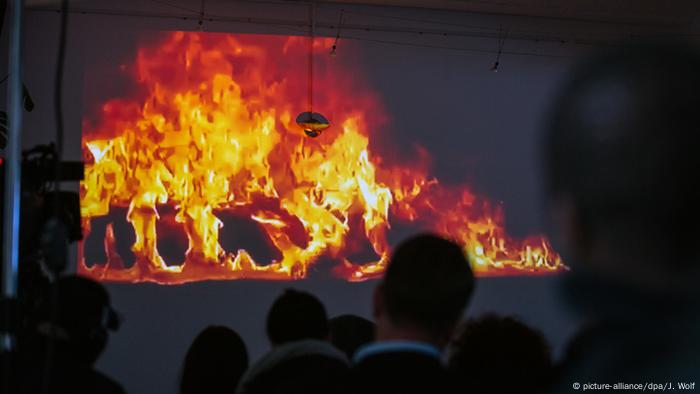 Researchers said that Jalloh's body could not have been burnt without combustible fluid
Further discrepancies
A grim video showing the campaigners' commissioned tests, using a pig's cadaver, was posted on the campaigned website in November 2013, and detailed a series of other problems with the police's account of Jalloh's death.
According to police, Jalloh was arrested during the night of January 6, 2005, after resisting officers and harassing some women. Under the influence of alcohol, THC and cocaine, he became aggressive and had to be shackled by his hands and feet to the bed inside the cell.
Nevertheless, police said that by midday the next day, he had managed to remove a cigarette lighter from his pocket (which had escaped their search), tear a whole in the mattress's fireproof cover, and set fire to it.
The lighter in question was only produced three days after the initial search of the cell - officers said they had only discovered it during a second search, hidden under Jalloh's body. Forensic scientists found none of Jalloh's DNA or clothing on the heavily damaged lighter.
Ndindah believes the Dessau prosecutors are colluding with the police to cover mistakes - or perhaps Jalloh's murder. "The state prosecutors are part of a judicial system that has, after eleven years, still not managed to clear up a situation where a shackled man in a locked cell on a fireproof mattress was burned," he told DW.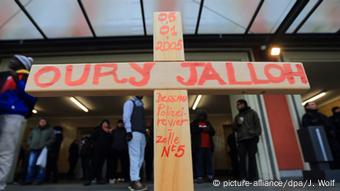 Campaigners are convinced Jalloh was murdered in police custody
Prosecutors have consistently ruled out the possibility that anyone else was involved in Jalloh's death. After an initial trial in 2007 and 2008, two police officers were acquitted of charges of involuntary manslaughter and bodily assault leading to death, though the judge did criticize the police for inconsistencies and incompetence.
That verdict was overturned on appeal by Germany's Federal Court of Justice in 2010, and then in 2012 the shift duty officer was convicted of involuntary manslaughter and fined 10,800 euros ($12,200). That verdict was upheld by the federal court in 2014.
Black Lives Matter in Germany too
The campaign, meanwhile, has consistently staged protests outside the state prosecutors' office - including adopting the "Black Lives Matter" slogan used in the United States to protest against the deaths of black people at the hands of the police.
Thursday's experiment was just one stage in what will likely be a long investigation. "This is not about clearing up how the fire was started or who started it - at least not at this point," institute director Thorsten Prein told reporters.
Meanwhile, Mouctar Bah, a friend of Jalloh's and the founder of the initiative, remains convinced that his friend was murdered - and that his autopsy, which found little indication of smoke in his lungs - showed that he was already dead when the fire was started. "I think they killed him and wanted to hide it," Bah told DW.